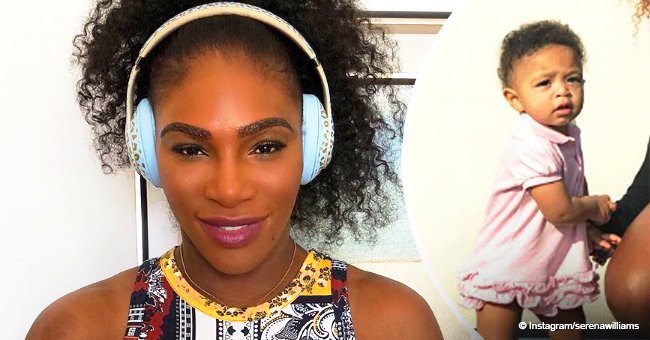 Serena Williams' daughter steals the show in pink, frilly dress posing with mom in new photo
Serena Williams d her daughter Alexis Olympia look stunning in a recent pic shared to the tennis champion Instagram account. The pic is a behind the scenes of William's controversial GQ's magazine cover.
Alexis Olympia seems to be getting used to the cameras at just 1-year-old. The adorable tot posed alongside her mom for a sweet snap taken in between shots for Serena's GQ magazine's cover, where she was named "Woman of the Year."
In the pic, Williams flaunted her toned legs in a skintight bodysuit that drew attention to her cleavage with a chest cut out and completed the look with a gold Chanel belt and heeled black boots. Serena rocked her curly locks in a big afro, as she crouched next to Olympia holding her tiny hand and looking straight at the camera.
The 1-year-old, on the other hand, stole the spotlight with a simple pale pink frilly dress and white sneakers, also looking at the camera in front of a white backdrop.
FANS' REACTIONS
Serena didn't caption the pic, but the power that the shot exudes was enough to send her fans on a frenzy in the comment section, as they couldn't stop gushing about the mother-daughter duo and their uncanny resemblance.
"Gorgeous pic, love the message you are leaving in her legacy," wrote one fan.
"Thankful for women like YOU! Strong, confident and shattering those glass ceilings."
And a third one chimed in:
"This baby is ready!!! To take the reigns lol."
THE CONTROVERSIAL COVER
Williams is featured in one of four covers for GQ Magazine's annual Men of the Year issues, but the magazine's decision to cross out the word man, and put "Woman," like that, in quotations, earned them lots of critics on social media.
The reason is simple: some of Williams' fans believe the use of the quotation marks nods to jabs the athlete has faced for years from people that have referred to her as a man for her built body, and have even suggested she's a trans woman.
Williams addressed those words in a letter she wrote to her mom on Reddit last year, saying:
"I've been called a man because I appeared outwardly strong. It has been said that that I use drugs (No, I have always had far too much integrity to behave dishonestly in order to gain an advantage). It has been said I don't belong in Women's sports—that I belong in Men's—because I look stronger than many other women do. (No, I just work hard, and I was born with this badass body and proud of it)."
Neither Serena nor the magazine addressed the accusations, but it seems like the tennis star is more than happy with her cover, one of the many she has earned this year after her big comeback to the tennis court after having baby Olympia.
Please fill in your e-mail so we can share with you our top stories!