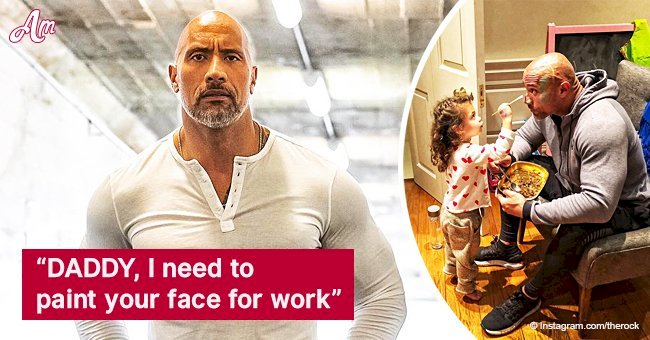 Dwayne Johnson lets little daughter paint his face, unable to resist her charming cuteness
Dwayne Johnson has proven once again that he cannot resist the sweet feminine wiles of his daughter, Jazzy, cementing his spot as "Father of the Year."
Dwayne 'The Rock' Johnson shared a cute picture on Instagram of the possible future-make-up-artist, 2-year-old Jasmine, painting his face before work.
The actor's instructions to the hard working young girl were clear and concise:
"Make sure you choose manly colors that are flattering to my complexion."
Read more on our Twitter account @amomama_usa.
Johnson's excuse for letting little Jazzy get her way seems to be that he cannot say no to her mama's "intoxicating blue eyes."
From the sounds of things, Lauren Hashian, his partner and Jasmine's mother, appears to have imbued her daughter with special powers that have her father wrapped around her little finger, as his recent posts prove.
Halle Berry wrote, "I CAN'T—such a blessing" in the comments section with Jeffrey Dean Morgan saying, "Jazzy has her dada jumping thru any and all hoops she decides on! You don't stand a chance brother."
While "the Rock" regularly blesses social media with quips and pictures of his daughters, Simone, Jasmine, and Tiana, Jazzy's recent cuteness has fans completely smitten.
Only Jazzy has been able to get her formidable-fighter daddy to agree to a manicure with magic markers and nail polish, making sure he always looks his best.
And while it's Jasmine's self-appointed task to make sure daddy looks as pretty as possible for work, Johnson's Twitter has always highlighted the fact that he's a health nut who stays buff through hard work and determination.
Which is why hardcore fans were shocked when he posted a picture of his "cheat meal Sunday Sushi Train" where he appeared to be eating over 100 sushi rolls with a multitude of dips while watching Netflix.
"If you ain't eatin' - then you ain't cheatin'. Enjoy your cheat meals my friends and excuse me while I take greed and gluttony to new levels."
If you can smell what The Rock is cooking, you can stay for dinner!
Please fill in your e-mail so we can share with you our top stories!