Khloé Kardashian & Tristan Thompson spend Thanksgiving together after cheating scandal
They welcomed their first child together and went through a very public cheating scandal, but Khloe Kardashian and Tristan Thompson are choosing to stay grateful this year.
Despite the pain of having to relive Tristan's cheating as it airs on "Keeping Up With The Kardashians," Khloe is putting on a brave face and choosing to do what is best for her daughter, True Thompson. The reality star flew to Cleveland where Tristan lives so True can get to spend her first Thanksgiving with mom and dad.
The NBA player took to Instagram with a family photo where they all wore coordinating pink outfits. Although the exact status of Khloe and Tristan's relationship is not known, he referred to them as his family.
"PS he never left ANYONE for me. I have said this before but as I have learned the truth isn't as exciting as a lie..."
Tristan held True in one hand and wrapped the other around Khloe's waist. "I'm soo blessed. Happy Thanksgiving from my family to yours," he wrote.
CHEF KOKO
The Shade Room also shared some clips from the pair's social media. One video showed the lavish arrangement of food on a long dining table. The camera pans to Khloe who looks busy with the preparations. A voice, believed to be Tristan's, can be heard saying, "Look at this fine [ass] chef."
In another clip, Khloe referred to herself as "Chef Koko."
CHALLENGING YEAR
It's been quite the rough year for Khloe and Tristan as a couple, and even though the "KUWTK" star is reportedly yet to "define" their relationship, she did look like she was having a good time.  
KIDS COME FIRST
A source, however, told E! that it was all for True:
"It's True's first Thanksgiving and Khloe wants to celebrate it as a family. It's very important to her that True has her own family traditions and is with both her mom and dad."
Khloe is said to be conflicted on whether to move to Cleveland finally because of Tristan's alleged infidelity.
"She is still very happy in L.A. with her family support, and the thought of being back in Cleveland by herself is unsettling," the insider added.   
ANOTHER FAMILY HOLIDAY
Even though the 34-year-old Kardashian sister is still indecisive about her relationship with Tristan, she is very committed to raising True as a family. Last Halloween, she also flew to Cleveland where True got to spend the holiday with both parents.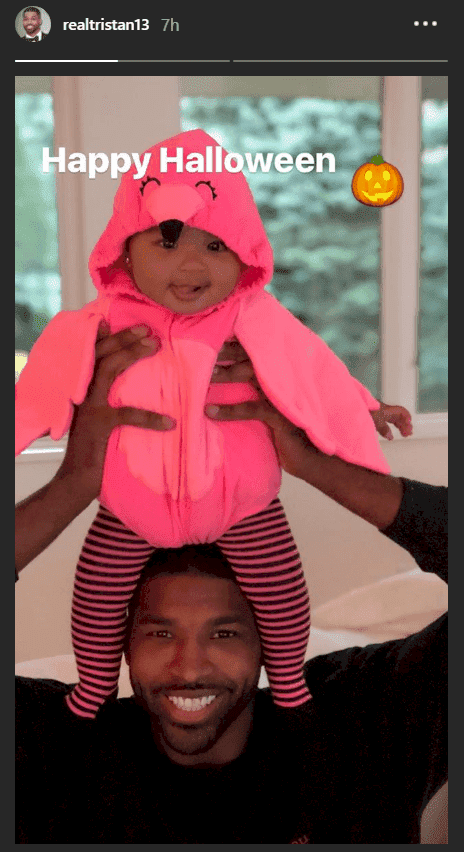 AN EX-GIRLFRIEND & A BABY
Controversy has plagued Khloe and Tristan's relationship from the onset. The Cleveland Cavaliers Power Forward was expecting a baby with his ex-girlfriend at the time he started dating Khloe, and a lot of people accused her of destroying that relationship.
A birth is not something you can "redo". Once you make that choice you can never get it back #KUWTK think big people ❣️ https://t.co/yomGzrFZcc

— Khloé (@khloekardashian) November 19, 2018
The "Good American" boss recently fired back at a Twitter user who brought up the issue again. "Get your facts straight," she said.
In a now-deleted Instagram post, she also told another person:
"PS he never left ANYONE for me. I have said this before but as I have learned the truth isn't as exciting as a lie. So the lie is what gets traction. The truth seems to get buried and ignored. Either way, it's all love and peace over here."
Lol got it! Lol your issue is with the fur! You clearly don't know Tristan or myself so you have no idea our timeline babe. But I'm so flattered that you pay such close attention to me for all of these years 🥂 to the great life love. Thanks for the support

— Khloé (@khloekardashian) November 19, 2018