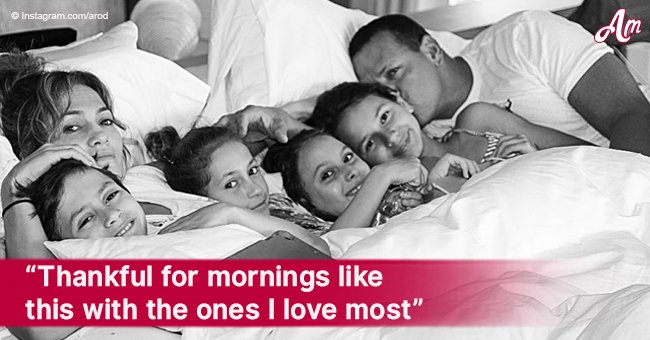 Jennifer Lopez snuggles with A-Rod and 4 children in an intimate bedtime picture on Thanksgiving

Jennifer Lopez and Alex Rodriguez cuddle with their four children for a sweet Thanksgiving snap.
Singer and actress Jennifer Lopez and former professional baseball player Alex Rodriguez posted a sweet Thanksgiving snap of themselves and their children as a family, on their Instagram/ account on November 23, 2018.
Lopez and Rodriguez started dating in In February 2017, and have been inseparable ever since. Lopez shares two children with ex-husband Marc Anthony, twins Maximilian and Emme, 10; and Rodriguez has two daughters - Ella, 10, and Natasha 14 - with his former wife, Cynthia Scurtis.
"Thankful for mornings like this with the ones I love most. I am truly blessed. #HappyThanksgiving to all of you and your families. #gratitude : @lacarba"
Alex Rodriguez, Instagram/ ARod on November 22, 2018.
A-ROD AND J-LO ARE A NEW FAMILY
The black and white photograph shows Lopez cuddling her two children in a double bed, along with Rodriguez and his two daughters. The family looks cozy and happy, with the usually glamorous Lopez looking tousled and fresh-faced.
Since they started dating, the couple has always included their respective children in their lives and often have family dates and holidays. Rodriguez's two daughters are long-time fans of J-Lo, and Max admires A-Rod's baseball skills.
Lopez shares two children with ex-husband Marc Anthony, twins Maximilian and Emme, 10; and Rodriguez has two daughters - Ella, 10, and Natasha 14 - with his former wife, Cynthia Scurtis.
TROUBLE IN PARADISE
The couple is famously uxorious, and very much in love, but Rodriguez is now in a dispute with his ex-wife, Cynthia Scurtis, over child support issues. Trouble ensued when Lopez attended a meeting between the two parties and stated that Rodriguez should only pay $10,000 in child support a month, instead of the approximately $100,000 he has been paying.
A BREAK DOWN IN NEGOTIATIONS
The singer's presence and interference apparently did not go down well with Scurtis who even had a moment alone with J-Lo when she persuaded her ex-husband to leave the room. The negotiations which were scheduled to resume the next day were called off.
THE MOST EXPENSIVE PROFESSIONAL ATHLETE DIVORCE EVER
Scurtis is a former psychology teacher, but she no longer works. She divorced Rodriguez in 2008, after a 6-year marriage for emotional abandonment. The extravagant settlement is considered the most expensive among professional athletes' divorces and Scurtis received an estate in the order of $12 million, and a monthly stipend of $115.000 as spousal and child support.
The amount was stipulated at a time Rodriguez was still an active pro baseball player, with an annual salary of approximately $30 million. Since his retirement, his income has dropped to $3 million a year, and Rodriguez has offered to pay Scurtis $20,000 a month.
Scurtis has a new fiancée with who she shares a child, and Rodriguez believes he is supporting her new family too. The original divorce settlement agreement took into account Rodriguez's future retirement and a reduction in the monthly child and spousal support.
Read more on Twitter Amomama USA.
J-LO AND A-ROD'S SWEET DEVOTION
Jennifer Lopez and Alex Rodriguez have both been in previous marriages and relationships, but it seems they have finally found their soul-mates.
Rodriguez is divorced from Cynthia Scurtis, and Lopez has been married three times to Cuban dancer Ojani Noa, actor Cris Judd, and singer Marc Anthony. She was also involved in a high profile relationship with actor and director Ben Affleck, to whom she was briefly engaged.
The two have publicly declared their mutual devotion on numerous occasions, from interviews to speeches at award ceremonies and it is clear that theirs is a match made in heaven.
Rodriguez on Lopez:
"She's an amazing, amazing girl. One of the smartest human beings I've ever met and also an incredible mother."
"Jennifer is one of the most brilliant business minds that I've ever met. She's the hardest working lady. … I grew up with a single mother. I have two daughters. I am a big, big promoter of women equality."
Lopez on Rodriguez:
"He's a loving father. He's a generous human being with his family, with his friends, with me. He's caring and sweet and capable and responsible and just all the beautiful things you would want a man to be."
"I'm in a good relationship. I feel like I can say that for the first time — I don't know — maybe ever. And not that I didn't have great relationships, full of love and adventure, but this is the first relationship I've been [in] where I feel like we really make each other better." tzI am surprised everyday by the generous, loving person you are to me and everyone around you … you bring energy and laughter everywhere you go."
The couple believes that they are soul mates and both have stated that they believe in marriage, but are allowing the relationship to develop naturally.
Please fill in your e-mail so we can share with you our top stories!