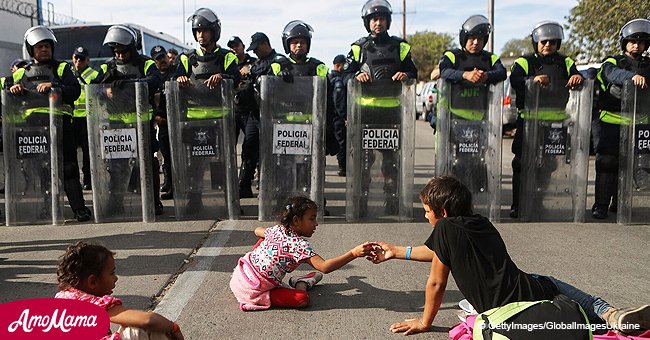 Tijuana mayor announces 'humanitarian crisis' and asks UN to step forward over migrants
Mayor Juan Manuel Gastelum of Tijuana, Mexico declared a "humanitarian crisis" and reached out to the United Nations to provide help for almost 5,000 Central American migrants who stepped foot in the city.
According to the official, the Mexican federal government gave little assistance, but it was not enough. He said that he wouldn't be using his city's resources to help fix the circumstances.
City officials and volunteers had worked together to help 4,976 men, women, and children, who arrived in the city borders following a month of living on the road. Seeing how grave the situation was, Mayor Gastelum was forced to ask help from the U.N.
Follow us on Twitter at AmoMama USA for more details and updates.
According to SFGate, the Trump administration had been castigating the caravan for weeks. They said the group consists of criminals, gang members, and terrorists – although, there isn't any proof that the Trump administration used such terms.
The head of the city's social services department, Manuel Figueroa, revealed that Tijuana had been offering assistance through portable toilets and showers, and giving out free shampoo and soap. Still, the migrants need more support.
Mayor Gastelum said, "We don't have sufficient and necessary infrastructure to adequately attend to these people, to give them a decent space. I am not going to spend the money of Tijuana (citizens)."
On November 22, 2018, the mayor's government called for help from the U.N.'s Office for the Coordination of Humanitarian Affairs.
Meanwhile, a day before Mayor Gastelum reached out to the international organization, President Trump has expressed on Thanksgiving Day that he was threatening to close the U.S. border with Mexico for a period of time, which he said will remain undisclosed. He said he would not hesitate to push through with it if his administration discovers that Mexico has lost "control" on its side.
Recently, a memo was signed by the White House chief of staff John Kelly stating that the Pentagon has the authority to permit troops in using force, including lethal force if necessary, to protect federal personnel at the border.
"The deployed military personnel shall not, without further direction from you, conduct traditional civilian law enforcement activities, such as arrest, search and seizure in connection with the enforcement of the laws," as read in the memo obtained by CBS News national security correspondent David Martin.
While all of this was going on, a small group of migrants reportedly marched to a border crossing on November 22, 2018, where they demanded better living conditions in their shelters.
The group consisted around 150 migrants, and they had separated from the caravan. Carrying white flags that stated, "La Paz y Dios" or "Peace and God," the group was within 500 feet from the United States, according to the San Diego Union-Tribune.
Please fill in your e-mail so we can share with you our top stories!