Fake Melania Trump mocks the First Lady with a vulgar joke about the President's 'privates'
Laura Benanti impersonated Melania Trump on "The Late Show," and she joked about President Donald Trump's private parts.
The First Lady has been making headlines as of late when she fired one of the staff at the White House. Of course, "The Late Show" host Stephen Colbert did not let the opportunity pass to talk about it.
Melania publicly called for the immediate firing of deputy national security adviser Mira Ricardel.
In a statement released by her communications director, Stephanie Grisham, said, "It is the position of the Office of the First Lady that [Ricardel] no longer deserves the honor of serving in this White House."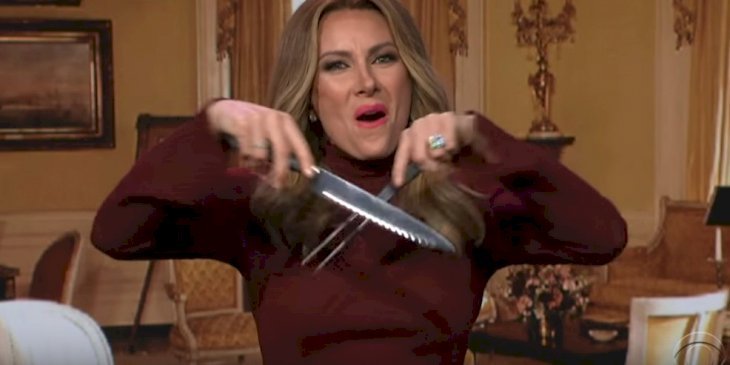 Follow us on Twitter at
AmoMama USA
for more details and updates.
Colbert took the chance and had famous comedian Benanti impersonate Melania for a fake interview. With all the jokes Benanti threw out on live television, Colbert could barely contain his laughter.
During the interview, the host asked Benanti as Melania what she had to say about Ricardel. The comedian quipped, "She was lying, she was petty, she was vindictive, and we've pretty much got that covered, so..."


When asked why she chose to actively participate in the firing of the former staff, she
said
, "You know me. All I want is to end bullying, and if you disagree with that I will crush you like a tiny bug underneath my stiletto."
And when Colbert asked her why she chose to make it public when she should have handled it with her husband in private, the fake First Lady answered, "Oh Stephen, I haven't handled my husband's privates in years."
This sent the audience into fits of laughter, and even Colbert himself wasn't able to contain his smirk.
Benanti had been the resident Melania impersonator on the show since 2016 at the hype of the presidential elections.
She also received backlash for it at the time and was forced to apologize to Trump because of the skit they made.