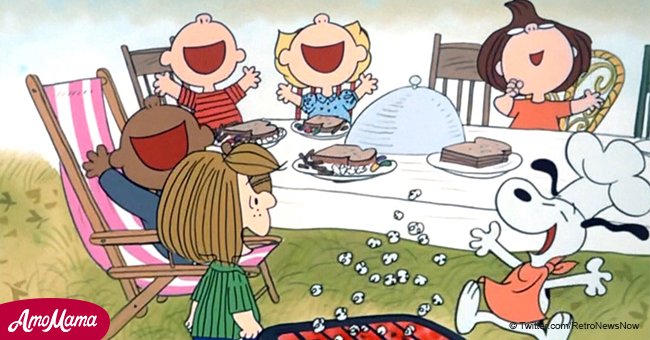 Charlie Brown's Thanksgiving Special sparks outrage over 'racist' scene
Charlie Brown, one of the most beloved characters in history, has recently sparked quite a lot of outrage with his Thanksgiving special.
Critics are slamming ABC's "A Charlie Brown Thanksgiving" due to a potentially racist scenario involving Franklin, the only black character in the group.
According to people on Twitter, sitting Franklin alone on one side of the table while the rest of the white characters are sitting on the other is a clear depiction of racism.
Follow us on our Twitter account @amomama_usa to learn more.
Not only that, all the other characters, such as Peppermint Patty, Sally, Charlie Brown, Snoopy and Linus, are all sitting in proper chairs while Franklin was given an old lawn chair.
The special debuted on November 20, 1973, and was aired again on Wednesday, causing people to take to social media to let the world know of their outrage.
Some people might have felt nostalgic upon seeing the special on television, but others realized that there was a lot that they missed while watching it as children.
For instance, a Twitter user named Vic Damone Jr. claimed that he never noticed how racist it was to have Franklin sitting by himself at the holiday table.
Several other people also didn't enjoy seeing the adorable character being singled out and vowed to never watch the Thanksgiving special anymore.
Despite the great number of angry users, some defended Charles Schulz, the "Peanuts" creator, by stating that he fought very hard to add Franklin to the show in order to protest against racism in 1968.
WHAT ACTUALLY HAPPENED IN THE SPECIAL
Furthermore, those complaining about the special must have not paid much attention to it because Franklin was standing alone due to being the guest of honor.
As correctly pointed out by a user named SaNaaya, Franklin was given the special chair and place at the table by the other character so everyone could see him.
Nowadays, racism is still very much alive and it should be fought. While the Charlie Brown special wasn't racist, there have been other moments on television that were, such as the controversy involving Megyn Kelly and black face.
During the "Today Show," Kelly defended that it was perfectly acceptable to wear blackface as long as one was portraying a character. Her words were not well-received and the show was eventually canceled.
Please fill in your e-mail so we can share with you our top stories!