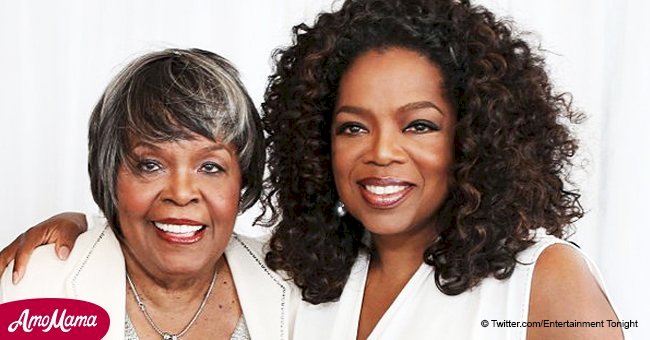 Oprah Winfrey's mother dies at 83
Last Thursday, on Thanksgiving, Oprah Winfrey's mother Vernita Lee passed away. The media mogul's mother died in her home in Milwaukee, Wisconsin.
She was 83-years-old at the time of her passing. Winfrey's mother was laid to rest in a private funeral and her cause of death hasn't been revealed.
Vernita Lee had two other children, a son Jeffrey Lee, who died in 1989 and a daughter Patricia Lee Lloyd, who died in 2003. During an interview, Lee opened up about how she managed to carry on after losing her children.
She said:
"I'm a Christian lady, and if you're a Christian person, it helps you to deal with situations like that."
For more on this story go to our Twitter account @amomama_usa. On Thanksgiving, Oprah Winfrey, 64, posted two videos on her Instagram page.
These included one which gave a peek at her Thanksgiving feast. Ever since then, the media mogul has stayed off social media.
In the same interview, the mogul's mother said she modeled the example of giving others love. This is also the same model that Winfrey based her career on.
Speaking about her famous daughter she said: "I loved her the way that she loves people now." Lee added that her proudest moment was in 1985 when Winfrey "did 'The Color Purple.'"
Winfrey's mother, 18 at the time, and father Vernon Lee met once before they welcomed her in 1954. Before becoming a star, she traveled between her parents and grandparents houses throughout her childhood.
In 1999 her father revealed how she found out about Winfrey's birth:
"[Oprah's] mother wrote me and told me that, you know, the baby had just come, in a letter: what it weighed, what its name was and so forth and so on."
Lee was born on May 2, 1935, and she worked as a housekeeper throughout her life. She is survived by Winfrey and daughter Patricia Amanda Faye Lee, who she gave up for adoption at birth and reconnected with later in life.
Memorial donations in Lee's name can be made to Feeding America.
Before her mother passed, the media mogul had the pleasure of having an in-depth conversation with former First Lady Michelle Obama. The interview centered on Obama's recently released memoir, "Becoming."
The book ended up on Winfrey's Book Club list.
Please fill in your e-mail so we can share with you our top stories!