Kirk Frost fires back after being slammed for missing one child in family photo with wife & kids
Kirk Frost recently took to Instagram to share a photo alongside a part of his kids and grandkids, and while he usually ignores the comments from trolls, this time around he had time in his hands to spare. He fired back to the people criticizing him for not spending time with his youngest son, Kannon.
The former rapper and reality star has been in the eye of the hurricane since it was confirmed through the "Love & Hip Hop: Atlanta" reality show, that not only did he cheat on wife Rasheeda Frost after 11years of marriage, but also left his mistress pregnant and fathered a child.
Since then, Frost has been constantly criticized for not spending time with the boy, and every time he shares a photo with the rest of his kids, people in the comments always have the same question: "Where's Kannon?"
REPLYING TO HATERS
When Kirk posted a Thanksgiving family portrait with some of his kids and grandkids on Instagram, people were quick to slam him hard again for not spending the holidays with his youngest son, but this time around, Frost replied to the haters.
"Missing one," commented one user, to which Kirk replied: "Missing 3 and 2 grandkids if [you] really want to know."
Kirk is the father of seven kids. In the pic, there's Kirk and Rasheeda's kids, Ky and Karter, and Kirk's children from previous relationships: Kirk Jr. and Kelsie. In the back, there's also Kirk Jr.'s two youngest kids and Kelsie's son. So that left Kirk's daughter Cherry, baby Kannon and an unknown son missing in the family pic.
Another user commented "Everybody asking where his other son at…prolly [sic] spending the holidays with his mother dummy!" to which Kirk replied, "Exactly."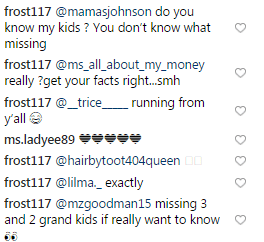 REBUILDING A FAMILY
Even though he denied being the Kannon's father at first, a DNA test later proved that he was indeed Jasmine Washington's baby's daddy. The betrayal caused a rift between Frost and Rasheeda, but not for long.
By the time the "L&HH" season came to an end, Rasheeda had already moved on with Frost, refusing to let her family go down because of his mistakes.
Instead, she stated she wanted to fix the marriage, and while she refuses to have any kind of relationship with her husband's baby mama, Rasheeda said she's open to her sons spending time with their little brother.
While there's still not documented proof on social media of that happening, people are expecting to see if the whole family dynamic will be played out in the next season of "Love & Hip Hop."