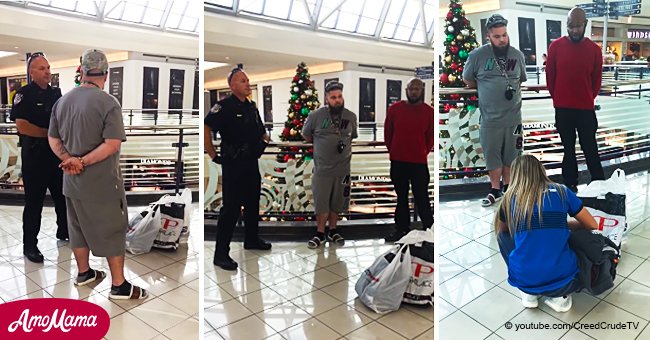 Texas shopper angry at being handcuffed in front of sons for shoplifting when he had receipts
A Texas man Christmas shopping with his two young children was accused of stealing and handcuffed by Police.
Ro Lockett's shopping expedition with his children and a friend to Stonebriar Centre mall in Frisco, Texas, ended in handcuffs.
The 28-year-old and his friend were handcuffed and searched in front of his two young sons, 10, and 8 years old. The older boy filmed the incident on his cell phone, and the clip was posted on YouTube/CreedCrudeTV on November 22, 2018.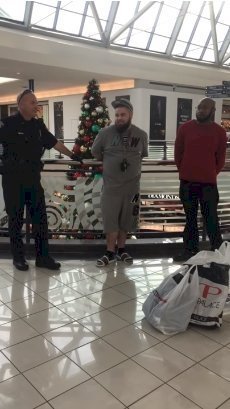 Source: YouTube/CreedCrudeTV
'Stalked as if we were prey as we shopped and then ambushed by Frisco police, I stood handcuffed helplessly as my children, friend and myself were humiliated and victimized based on an assumption that we had stolen merchandise."
HELD IN HANDCUFFS NEAR SANTA'S GROTTO
Ro Lockett and his friend Brandon Kibart were stopped and handcuffed by police while shopping with two sons after a staff member of the Finish Line store suspected them of stealing over $600 worth of merchandise.
The two men were shopping for clothes for the two children and were carrying numerous bags from several stores. The two boys stood and watched as a store employee riffled through their shopping bags.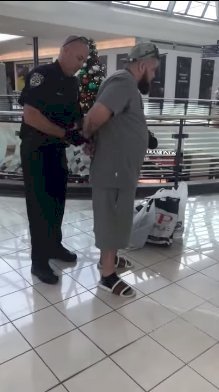 Source: YouTube/CreedCrudeTV
FRISCO POLICE REPORT DETAILS SUSPICION
According to a Police report detailing the incident, the two men - on white and one black - were suspected of shoplifting at the store which specializes in basketball sneakers, running shoes, casual shoes & athletic gear from top brands like Nike, Jordan, Adidas, and Under Armour.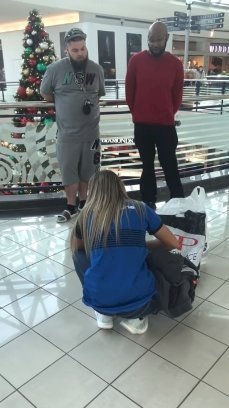 Source: YouTube/CreedCrudeTV
SEARCH OF BAGS REVEALED RECEIPTS
The bags were searched - as were the children - and the receipts accounted for every item in the men's possession. It was all brought and paid for. At the end of the search, the woman who searched their bags laconically commented: "You're good to go."
According to a Police report detailing the incident, the two men - on white and one black - were suspected of shoplifting at the store.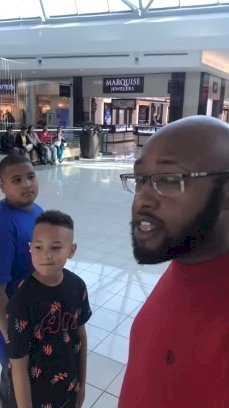 Source: YouTube/CreedCrudeTV
POLICE APOLOGISED FOR INCIDENT
The Police officers involved in the incident apologized to the two men, while the Front Line staffer anxiously asked if they were filming the occurrence.
Frisco police are reviewing the incident and have encouraged Lockett and Kibart file a formal complaint. Front Line management was contacted for comment but did not respond.
For Lockett, this incident is a result of the crime of "being black in America," and he bitterly confided that his two young sons are traumatized and fearful after seeing their father in handcuffs.
ANOTHER UNFORTUNATE MALL INCIDENT
"We finished purchasing our items, we left the store. We had a bag with a receipt in the bag. We walked out to the car and we see three police cars."
The young men were handcuffed by the Police until an examination of the shopping bag revealed their purchases and the receipt.
Geevy Thomas, the president of Nordstrom Rack, met the three young black men who were wrongfully accused of shoplifting and apologized for the incident:
"I feel fortunate to have met these young men and their families. I appreciate the opportunity to listen to their concerns and offer our sincere apologies on behalf of Nordstrom."
The young men expressed their appreciation for the responding officers who listened to their story and released them when it became clear that a mistake had been made.
Please fill in your e-mail so we can share with you our top stories!