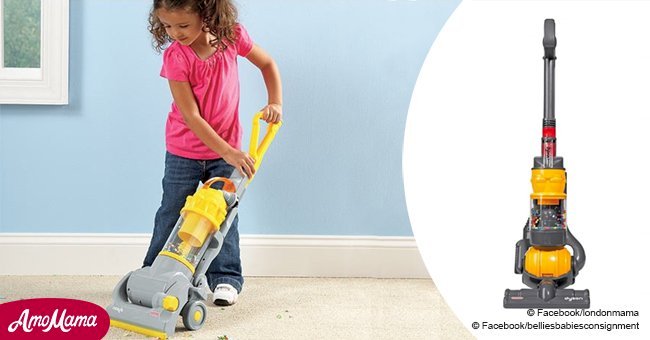 Here's a toy vacuum you can buy your child right now and it actually works
Most of the time children and their toys add to the general mess in a house. Now Dyson has designed a toy that will help parents keep their homes clean while still entertaining their children.
Where most toys only serve to clutter your home, Dyson's new toy vacuum will help teach children important skills, help parents keep their homes clean and tidy, and provide hours of entertainment for the little ones.
This toy comes just in time for parents to buy it as Christmas presents for their kids.
WHAT IS IT AND HOW DOES IT WORK?
While Dyson is known for making proper full-sized vacuums which are usually used by adults, their new model is much smaller, but it actually works and can be used to clean with.
This provides the perfect opportunity for children to learn the skill of vacuuming and how to keep their rooms clean, as it is the right size and weight for them to use.
Even if children think they are just playing with the toy, if it is switched on its suction power will pick up fibers, hairs, small pieces of paper, etc.
The toy vacuum is less powerful than the usual Dyson models, so they cannot be used to clean every surface in the house, but they are a great start for kids and will provide them with lots of fun.
WHERE TO GET ONE
Dyson's toy vacuum is available in red, pink, purple, and yellow. The price varies according to which color is chosen, but prices on Amazon start at $19.40.
It comes highly recommended with a 4-star rating on Amazon from over 2,700 reviewers.
ANOTHER AMAZING PRODUCT ON AMAZON
While the toy vacuum keeps kids busy, another product is available on Amazon that will keep parents happy.
Most working adults, especially those who are also parents, have a lot on their plate and have to get up early in the morning to go to work, even in the winter months.
This experience will now be much more comfortable due to the invention of an electric blanket that plugs into the cigarette lighter of any car.
Drivers can keep themselves toasty or use the 96-inch cord to its full capacity by wrapping the blanket around children or pets on the backseat. At only $24 this is bound to become a winter staple.
Please fill in your e-mail so we can share with you our top stories!