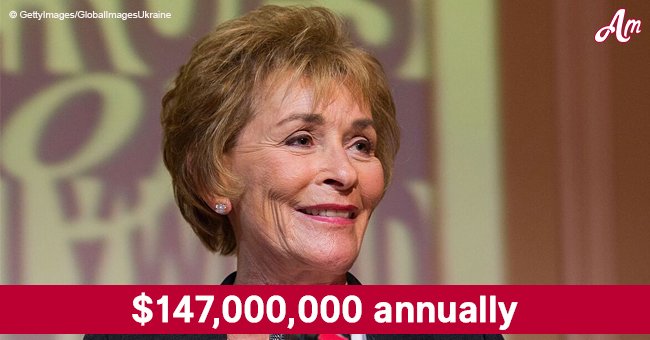 Judge Judy is the highest-paid TV host earning a whopping $147 million annually
Judy Sheindlin, most famous as Judge Judy, is the highest-paid television host, according to Forbes. She reportedly earns $147 million every year.
As revealed by the magazine, the 76-year-old star made the whopping millions pretax in 2017. Next to Sheindlin on Forbes' list was Ellen DeGeneres with her earnings worth $87.5 million.
She was followed by Dr. Phil McGraw with $77.5 million, Ryan Seacrest with $74 million, and Steve Harvey with $44 million.
Follow us on Twitter at AmoMama USA for more details and updates.
It came as no surprise that she made the hundred million after she sold the 5,200-episode library of "Judge Judy" to CBS last year. The remaining $47 million came from hosting the show and producing "Hot Bench."
At present, her net worth is $400 million, which makes her the 48th richest self-made woman in the country.
Born on October 21, 1942, in New York City, Sheindlin headed to Washington D.C. to study at the American University. Afterward, she earned her Juris Doctor degree from the New York Law School in 1965.
It wasn't long until she obtained a job as a corporate lawyer but had to leave two years later to focus on motherhood, raising her two children.
Sheindlin's famous TV show, "Judge Judy," first aired in September 1996. Fans quickly embraced her personality with the way she carried herself on the show. She was tough and witty, which majorly contributed to the boost of ratings.
Since it premiered, "Judge Judy" garnered major awards. The show won the Emmy Award for Outstanding Legal/ Courtroom Program in 2013, 2016, as well as in 2017.
Speaking at 2017's Forbes Women Summit, Sheindlin inspired other women to always pursue their passion.
"Many people, as I did in the beginning, get stuck with a job they don't really like. … If you're not doing something that you love to do, find something that you love to do, because it will make your whole life different," she said.
Meanwhile, people may think that Sheindlin's tough persona on the show is just an act, but it was revealed that it might not be the case.
Before she even stepped foot on television, she was already known for her blunt and impatient persona while spending more than two decades in New York's family court system.
Please fill in your e-mail so we can share with you our top stories!