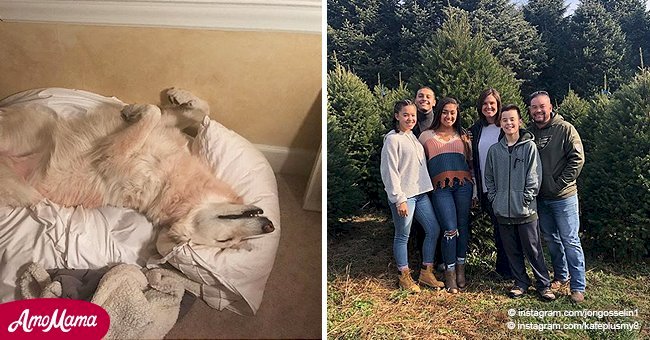 Kate Gosselin shares photo of her dog while Jon posts proudly about his kids on Thanksgiving
The Gosselin family's Thanksgiving this year was embittered by their ongoing lawsuit regarding the custody of their son, Colin. Jon was lucky enough to host Colin for the holidays while Kate had a different kind of family member at her table.
HOME OR ALONE FOR THE HOLIDAYS?
In any divorced family the holidays can be tricky to navigate, but even more so for the Gosselins whose parents, Jon and Kate, are engaged in a legal battle for full custody of their son.
Kate is not taking this lying down and took to Instagram to show that she is still happy over the holidays, despite what is happening between her and her former husband.
Read more on our Twitter account @amomama_usa.
Jon spent Thanksgiving with his children Colin and Hannah, while the other six Gosselin children stayed with their mother, Kate.
Jon posted Thanksgiving pictures on Instagram, to which Kate replied with a picture of the family dog looking restful. In her caption, she compared the dog's pose and demeanor to the atmosphere of her Thanksgiving celebrations.
INSTAGRAM BATTLE
The custody battle is not only taking place in the courtroom but also on Jon and Kate's respective Instagram accounts.
The legal proceedings are very public and in the media eye, which is probably why they are both trying hard to show themselves as the more fit parent.
For Jon, this took the form of posting pictures of him sharing the holidays with Hannah and Colin. He also posted a picture of himself, his girlfriend Colleen Conrad, her two daughters, Hannah and Colin.
This photograph shows how well Colin fits into their blended family.
Kate chose to rather take the approach of not engaging directly or being petty. Instead, she posted a picture of her dog, Nanuq, sleeping on his bed.
Using hashtags such as #rest, #enjoy, and #thankful Kate emphasized how she and her six other children made the most of the holidays and enjoyed a peaceful time at home.
JON AND COLIN'S PHOTO COLLECTION
Colin is currently living in an inpatient facility where he is receiving treatment for special needs. The exact nature of his special needs is not known to the public as his parents prefer to keep this information private.
Colin is allowed home on weekends and when he spends the weekend at his father Jon's house, Jon likes to take pictures of them and post it on his Instagram account. These pictures often include Colin's sister Hannah who lives with Jon full time.
Hannah and Colin are two of the children from Jon and Kate's sextuplet and therefore share a birthday. On their 14th birthday, Jon held a special celebration with Colin and Hannah and followed his tradition of posting a picture of it on Instagram.
He did not spend any time with his other four children from the sextuplet for their birthday but did post a picture of them from years ago in which he expressed how much he misses them and loves them.
Please fill in your e-mail so we can share with you our top stories!