Cat's clumsy attempts to get dead fish from under frozen lake goes viral
The poor cat thought it was going to have a decent meal with the dead fish it spotted. Unfortunately, it was under a layer of ice. The cat's attempts at catching the fish has gained online attention.
The feline looked adorable as it tried to catch a dead fish that had been frozen in a lake. As the whole plight was captured on video, many online users gushed over the cute animal.
The cat must have thought that it was lucky to have found the dead fish, but somehow, it didn't realize that the surface was frozen.
Circling the snack, the cat desperately tried everything to reach it.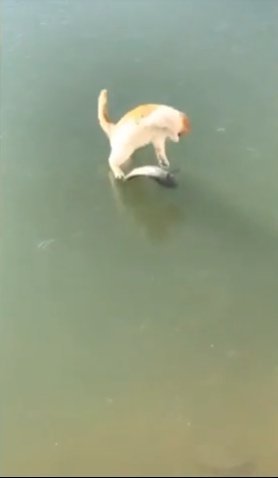 Follow us on Twitter at
AmoMama USA
for more viral videos and stories.
It pounced, swiped, and even rolled over the fish, but all the attempts were unsuccessful. The feline didn't even crack the frozen layer of water.
By the end of the short clip, the cat looked at the person taking the video as if asking for help.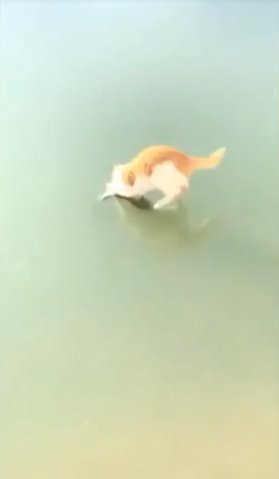 The video was
uploaded
on Twitter and has been viewed over 1.2 million times.
Because of the cat's great attempts, Twitter users were entertained by it and found the animal very adorable.
One Twitter user, Katie Kaiser, commented, "That poor cat can't have a decent Thanksgiving meal!" along with a laughing emoji.
According to RT, the video that captured the hearts of people all around the world was supposedly taken in Shenyang City in China.
Meanwhile, the Daily Mail explained that cats are hypercarnivores, which means that meat and fish are essential in their diet.
Felines need taurine in their system. It is an amino acid that benefits the animal's heart, eyes, and immune system. Taurine is mainly found in meat and fish.
While the viral cat video was posted this year, in 2016, the same thing happened to another cat, although the fishes under the thick layer of ice were alive. The poor feline ran around in circles trying to catch the fish but to no avail because of the frozen surface.
In another story, a cat was just about ready to pounce and fight another, much bigger cat. Luckily, a golden dog appeared in the picture and dragged the smaller cat away to prevent what would have been a nasty street fight.