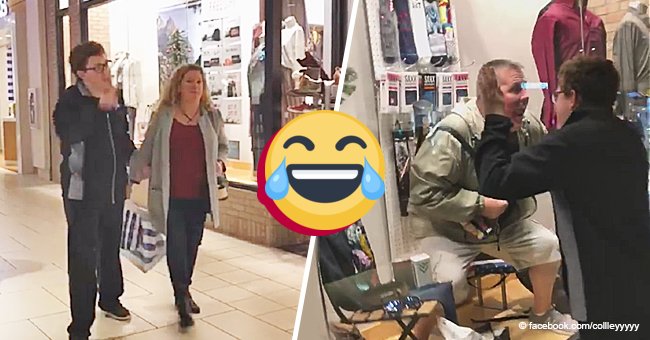 Goofy dad tries to make special needs son laugh in a mall and has everyone in stitches
The unconditional love of a father for his special needs son and the lengths he'll go to make the boy laugh are melting hearts all over the internet.
Rick Houck of New Jersey is not shy when it comes to acting silly to make his son Jacob laugh, and his goofiness has people all over social media in stitches after a video of his latest stunt in a local mall was posted online.
Houck, his wife Jennifer and Jacob were walking around the Deptford Mall when Rick secretly separated from his family and walked ahead of them. Then, he got into a clothing store called Buckle and approached assistant manager Nicole Prodin. He had a special request.
He said, "Hey can I ask a favor? My son has special needs, and I wanna make him laugh, I'd like to pose in your window, if possible, we just did it over at Hollister!" recalled Nicole on a Facebook post.
Amused and curious about Houck's actions, Nicole accepted, and she stepped out of the store to record Jacob's reaction to watching his dad behind the store window.
JACOB'S REACTION
As the boy and his mother walk down the mall, Jennifer tells him "I don't know where your dad is," but Jacob caught quickly, spotting Rick on the window and instantly going toward him saying "There he is!"
Rick was posing behind the glass like a mannequin, holding some props from the store, but as soon as Jacob got closer, he started making funny facial expressions and poses to make the boy laugh.
Then, Jacob joined his father behind the glass, posing for pictures with a Christmas wreath as people started to gather outside the store, delighted by the impromptu spectacle.
"I was surprised to see the reaction of the people at the mall," Rick told CBS. And Nicole added, "The whole mall was stopping to watch the action, and it clearly didn't just make my entire night."
JACOB'S ILLNESS
Houck explained that Jacob, 21, was diagnosed with Atypical Teratoid Rhabdoid Tumor, a rare brain tumor, two weeks before his 4th birthday. "It usually takes life before the age of two," Houck said of the illness. And added:
"Everyday is a new day. He's not supposed to be here. We are enjoying every day we got with him."
Houck, a former respiratory therapist at Children's Hospital of Philadelphia, said that his other three sons are constantly doing the most to make Jacob laugh, so the stunt as the mall was no different.
The Facebook video has earned over 264k views from all over the world, with people commenting on how heartwarming is to see a father doing everything in his power to keep his son happy.
A CELEBRITY MOM TAKES CARE OF HER SPECIAL NEEDS SON
Like Houck, there are millions of parents around the world that do everything to make their children happy, and when the kids depend on them and have any kind of particular need, their bond grows bigger with time.
Such is the case of actress Monica Calhoun, better known for her role in the film "The Best Man."
Monica's son is blind, and she is very protective over him. The devoted mom's Instagram account is a testament to her love and dedication to him. Most of her posts involve the two of them spending time together and enjoying each other's company.
It's an adorable sight that has Calhoun's fans constantly praising her for being such a strong woman and the best example to her boy.
Please fill in your e-mail so we can share with you our top stories!