Little girl finally reunited with her beloved dog after donors pay for life-saving surgery
A five-year-old reunited with her dog, Buddy, after he went under surgery that saved his life. The puppy was going to be euthanized when an email changed his destiny.
Buddy, an eight-month-old Bernese-Greater Swiss Mountain Dog-Pyrenees cross, got another chance in life thanks to the generosity of strangers and the veterinary hospital that attended him in Vancouver, Canada.
The pup needed some expensive surgeries that the girl's grandmother couldn't afford, and he was next on the list to be put down. Joan Ehman and his granddaughter were getting ready to say goodbye to their friend when an email changed everything.
Couldn't have been assigned a better story on a rainy Friday- little girl reunited with her dog after 'Buddy' was destined to be put down. Spoiler alert - Buddy is alive and well! pic.twitter.com/SNfOH1JoPR

— Jill Bennett (@jillreports) November 23, 2018
People at Canada West Veterinary Hospital told Ehman that the surgeries would be covered by a fund set up by the hospital, giving the woman peace of mind and relief knowing that her adorable granddaughter wasn't going to lose her friend.
"I was thrilled," she told Global News, "I just can't believe how people can be so generous."
Ehman said that Buddy started to show problems a few months after being brought home from the breeder. He was having trouble walking on his four limbs and looked stiff on his hinds when he should have been running around and being a ball of energy.
Ehman took Buddy to the veterinary, and after several X Rays and studies, the doctors found out that Buddy's condition was worse than they thought: the dog had a condition known as osteochondritis dissecans (OCD), where the cartilage cracks and detaches from the underlying bone. It was affecting both shoulders as well as his back ankles.
Dr. Sevima Aktay explained that Buddy didn't have a dominant leg to stand on, so he needed two surgeries to recover two legs at a time. However, when Ehman heard the cost would be $9,000, her heart stopped.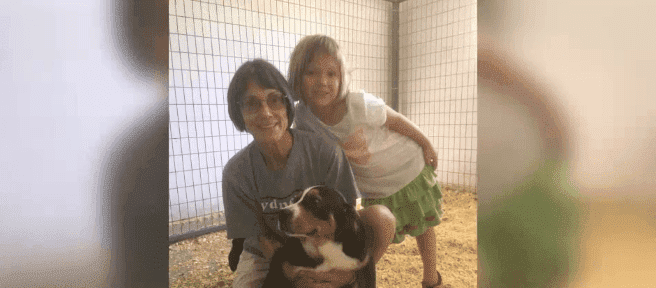 "It was just too much," she said, adding that she had already spent thousands of dollars on Buddy's care that were affecting her bills as the sole caretaker of her granddaughter, who also has special needs.
She didn't have other choice but no euthanize Buddy to spare him the pain and suffering he was going through.
But Canadian West surprised Ehman and her girl revealing that the surgeries would be paid for by the Jesse Bandit Donor Assistance Fund, which was set up by a previous client to help financially-challenged pet owners.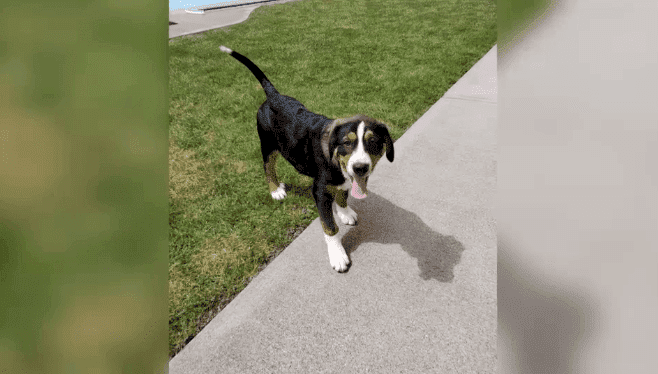 The first of the surgeries was completed last week, and Buddy to reunite with Ehman and his granddaughter. The next surgery will take place after the healing process from this one is over.
"I'm forever grateful," Ehman said. "If more people can donate [to this fund] that would be wonderful."
ANOTHER STORY ABOUT A GIRL AND HER DOG
On a similar story with a bittersweet ending, the Utah Humane Society shared the story of Rhino Lightning, a boxer brindle mix dog. 
Rhino was taken to the shelter after his family realized they couldn't keep him anymore, but he had a note with him that left the staff speechless. 
The adorable dog had been adopted by a family with four kids, but a few months later, the parents noticed Rhino was a bit too rough with the kids, and they feared that he would injure one of the kids if they let him alone with them. That's when they decided to give Rhino away.
However, the kids were not happy with the decision, especially the youngest of the family. But since she couldn't persuade her parents, the little girl decided to make sure Rhino would be alright in his next home. So, she scribbled down instructions of care for her friend, and send it to the shelter along with Rhino.
"Hi if you are reading this you must be Rhino's new owner. He was my puppy. I really hope he is in a good environment. I miss him," started the note. She also asked the new owner to keep Rhino's name and gushed about how pretty and smart he is. 
Rhino's story reached social media and a woman named Melanie Hill was instantly enraptured by the pup. Like Rhino, she had been abandoned at 3-year-old, so she could feel a certain affinity with the dog. After filling the adoption application, she was able to take Rhino home, this time, hopefully for a long time.
She also had a message for Rhino's previous owner:
"I will take care of your puppy and love him just like you did," Hill said. "He'll be able to run and play and be spoiled rotten but mostly he'll be loved."