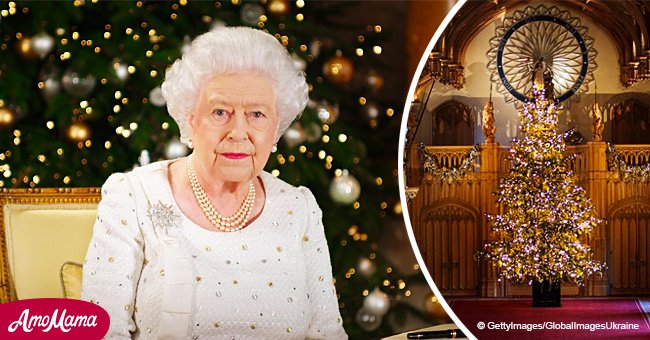 Take a look at the Queen's enormous 20ft Christmas Tree taking pride of place at the royal residence

Christmas at Windsor Castle is a splendid tradition going back hundreds of years.
Everyone loves Christmas, and the British Royal Family is no exception.
The Queen is particularly fond of Christmas trees and decorations, and leaves hers up until February, while everyone else packs them away on January 5, the traditional 12th day of Christmas, revealed Hello Magazine on November 30, 2018.
"The huge tree in St George's Hall is from the Windsor Great Park, so it's actually grown in the grounds surrounding the castle."
Richard Williams, Hello Magazine, November 30, 2018.
THE MOST BEAUTIFUL ROYAL TREE EVER
The Queen will be enjoying one of the most beautiful Christmas trees ever, which was set up at the splendid St George's Hall in Windsor Castle and took two days to decorate.
The tree chosen for the Queen's favorite residence is a 23ft Norman Fir which has been hung with over 7,000 fairy lights and festooned with beautiful antique golden decorations.
It was Queen Victoria's consort, Prince Albert, who brought the German tradition of decorating a Christmas tree to Victorian England in 1840.
A SECOND TREE AT WINDSOR CASTLE
A smaller but equally lovely 15ft Christmas tree has been placed in the Crimson Drawing Room, and in keeping with the room's theme, it has been hung with red Christmas decorations. Both trees came from Windsor Great Park, a 2,020 hectares Royal park which has belonged to the Royal family since the 13th Century.
THE QUEEN SPENDS CHRISTMAS AT SANDRINGHAM
The Queen and the Royal family will be celebrating Christmas at Sandringham Estate, Her Majesty's favorite country retreat. The Christmas decorations at Sandringham are said to be more "homy" and understated, just like every other British family's.
Every year the Queen gives Christmas trees to all the churches and schools in the Sandringham area, as well as to St. Paul's Cathedral, St Giles' Cathedral, Westminster Abbey, and Canongate Kirk in Edinburgh. The trees are paid for by the Queen out of her Privy Purse.
CHRISTMAS PUDDING FOR THE QUEEN'S STAFF
The Queen follows the time-honored tradition started by her grandfather, King George V, and her father, King George VI and gives Christmas puddings to the 1,500 members of her Palace staff.
Each pudding is delivered with a Christmas card personally signed by Queen Elizabeth, and her husband Prince Phillip.
Another tradition the Royal family adheres to is to attend a church service at St. Mary Magdalene church in Sandringham on Christmas morning. The tradition was started by Queen Victoria, Queen Elizabeth's great-great-grandmother.
It was Queen Victoria's consort, Prince Albert, who brought the German tradition of decorating a Christmas tree to Victorian England in 1840.
Please fill in your e-mail so we can share with you our top stories!