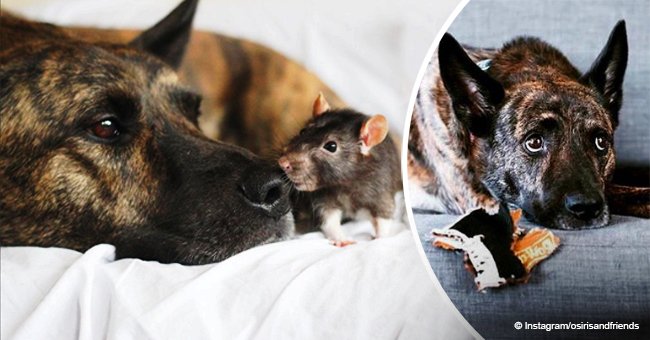 Dog was lonely until he met a new friend, a rescued rat named Riff
This unlikely friendship is one of the cutest you'll ever see on social media. Osiris, the dog, loved to cuddle and play around with his little best friend, a rescued rat named Riff.
Some people like to believe dogs are the most social animals out there. They can befriend anyone and anything, and this 3-year-old Dutch Shepherd is proof of that.
Osiris, a rescued dog turned therapy dog, has helped his family to nurse dozens of animals back to health, but among them, he created a special bond with a tiny one. Riff, a rat, came into Osiris life at only 4-weeks-old.
Osiris' owners rescued Riff from the street and took care of him, bottle feeding him and making sure he would grow up healthy. But what they didn't expect was for Riff and Osiris to become so close. And though it might not seem like it, this pair had something in common.
They were both abandoned. Osiris was a just a puppy when his owner found him in a parking lot all alone. At first, he was taken in as a foster dog, but his parents fell in love with him and ended up adopting him.
That's how Osiris got trained as a therapy dog, helping other dogs to ease their tension after being brought in to the foster home.
But because his home was fostering, Osiris would turn depressed every time one of his friends had to go to their new permanent home. Until Riff came in.
The two became inseparable almost immediately. They cuddled and shared Osiris' toys, even though they were at least three sizes bigger than Riff. The little rat also loved to hop on Osiris' back and get free rides around the house, and while strange, he also helped the dog clean his teeth.
"Riff Ratt really likes licking the inside of Osiris' mouth. I'm sure you all are wondering if we're afraid Osiris will eat Riff – NOPE! Osiris has helped foster and care for dozens of animals, and he is the gentlest dog I've ever met," explained the owner.
Despite their difference in sizes, this pair melted hearts on Instagram with their friendship, where their account has over 57.4k followers.
Sadly, Riff passed away in 2016 from old age. But as his owner said on Instagram, Riff friendship with Osiris became a "testament of understanding and tenderness without regard to size or species."
Now, Osiris has a new little friend: Pocket the rat. And they are as close as Osiris used to be with Riff.
Please fill in your e-mail so we can share with you our top stories!