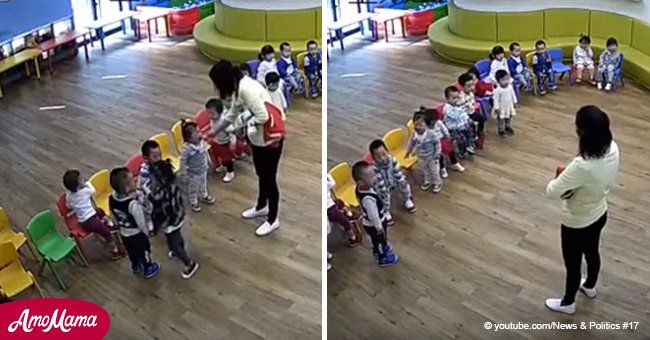 Daycare teachers jailed after video surfaces of children being force-fed wasabi
Eight former employees of a daycare center in China have been sent to jail for child abuse after they were captured rubbing wasabi sauce in the mouths of young children.
Recently, in Shanghai, China, after a video went viral showing the deplorable behavior of a group of daycare employees, public outrage led to the eventual suspension and dismissal of all the people involved.
Now, former employees have received prison sentences ranging from one year to 18 months, as well as periods of parole, according to the authorities in a statement.
Three of the sentenced teachers will not be allowed to work in childcare roles for at least 5 years, counted from the end of their sentences.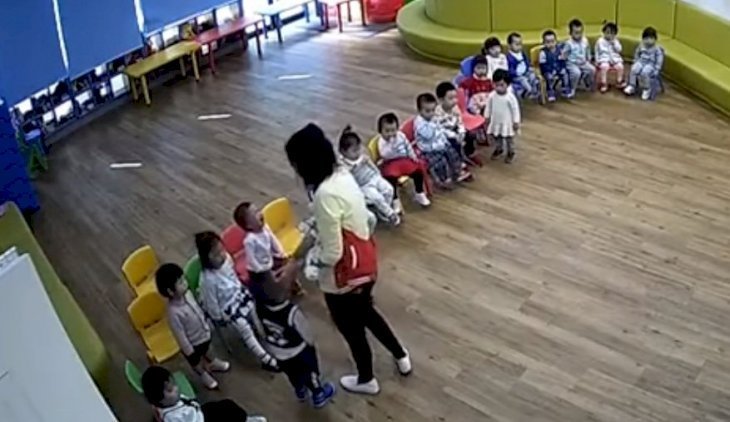 Source: YouTube/News & Politics #17
The incident prompted a barrage of criticism last November when the disturbing video came to light. Read more on our Twitter account @amomama_usa.
The heaviest sentence, a year and a half, went to Zheng Yan, the daycare manager. The nursery, created by the digital travel agency Ctrip, is located at its headquarters in Shanghai.
It was operated by an independent provider. The nursery has since been closed, according to local media reports.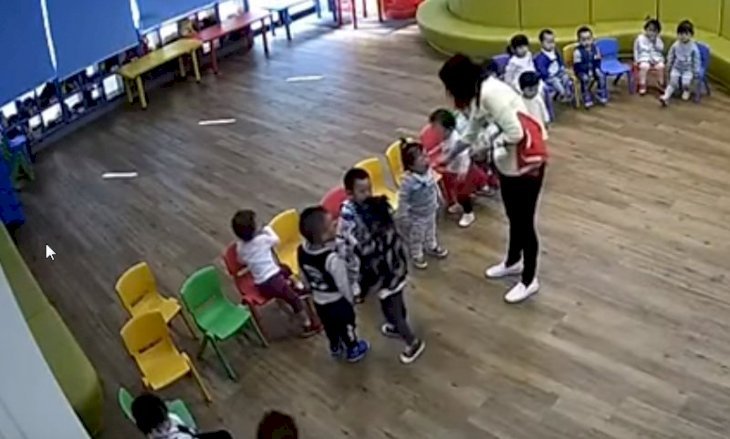 Source: YouTube/News & Politics #17
The staff was accused of buying wasabi, an extremely spicy paste, typical of Japanese food. They are also accused of forcing them to eat the wasabi, applying it to their hands and forcing them to smell the strong spicy seasoning.
The words of the court accused the staff of using wasabi as a form of intimidation against the children, who were approximately just two to three years old.
Other forms of abuse of which they were accused included shoving, hitting, shaking, and spraying them with an unidentified liquid.
In one of the videos, a woman is seen ripping a bag from a girl before pushing her. The little girl falls and hits her head against a chair.
In a second video, a boy cries after being forced to eat the pasta from a tube. The parents then discovered that it was wasabi.
Six of the employees were arrested in November after a parent watched the security video. The two other teachers turned up themselves shortly after.
The nursery gave a press conference where furious parents attacked one of the employees and tried to take revenge by trying to force her to eat what appeared to be wasabi.
Cases like these are more common than we might think. Ozark police recently arrested a daycare worker, accused of injuring a 2-year-old boy.
Ashton Graham, 26, was charged with second-degree assault, endangering the welfare of a child, and endangering the welfare of someone incompetent.
Bethany Stark and Amber Riley told police that the teacher at the Franklin County Learning Center used excessive force against a child.
Stark said he was called by a staff member, who said his two-year-old son was vomiting and was not feeling well. When he picked it up, Stark took his son to the hospital, where he was diagnosed with a concussion.
But the cause of this was something much grimmer. This reminds us of a daycare worker who was caught on camera abusing a 4-year-old.
Tracy Ludwig, 36, a teacher at a Texas preschool is accused of sitting astride the child and slapping him more than 10 times while trying to control the child's tantrum in the playroom.
Please fill in your e-mail so we can share with you our top stories!