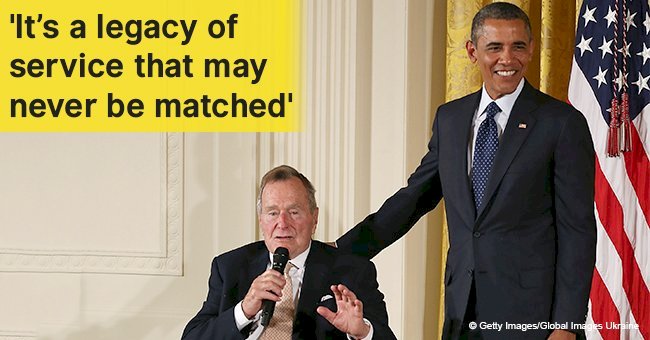 Barack Obama pays tribute to 'patriot and humble servant' George H.W. Bush after his death at 94

Barack Obama enumerates the qualities of a president with an unmatched legacy in his tribute to the late George H.W. Bush.
Barack Obama mourned the loss of "a patriot" following the death of former President George H.W. Bush on Friday. In a statement issued in behalf of himself and his wife Michelle Obama, the former president described his predecessor's legacy as unmatched "even though he'd want us all to try."
OBAMA'S STATEMENT
"America has lost a patriot and humble servant in George Herbert Walker Bush," Obama began.
"While our hearts are heavy today, they are also filled with gratitude. Not merely for the years he spent as our forty-first President, but for the more than 70 years he spent in devoted service to the country he loved."
He added,
"George H.W. Bush's life is a testament to the notion that public service is a noble, joyous calling. And he did tremendous good along the journey."
After mentioning some of Bush's achievements in office including his efforts to help new immigrants and the disabled and forging a victorious international alliance in the first Gulf War, Obama affirmed the strength of Bush's legacy.
"It's a legacy of service that may never be matched, even though he'd want us all to try."
Obama also paid tribute to the late president's inspiring marriage to Barbara Bush who died eight months ago.
"Two points of light that never dimmed, two points of light that ignited countless others with their example," were the words he used to describe the couple.
His statement ended with a list of Bush's qualities that contributed to the country's greatness.
"Service to others. Commitment to leaving behind something better. Sacrifice in the name of lifting this country closer to its founding ideals."
"Our thoughts are with the entire Bush family tonight – and all who were inspired by George and Barbara's example."
REKINDLING A FRIENDSHIP
Obama visited Bush in his residence in Houston last week prior to his death. The Guardian described the visit as " a rekindling of what was already a warm friendship."
A TRIBUTE FROM GEORGE W. BUSH
Days later, news of Bush's death was confirmed by his son, former president George W. Bush in a statement released on Friday in behalf of his siblings.
"Jeb, Neil, Marvin, Doro and I are saddened to announce that after 94 remarkable years, our dear Dad has died. George HW Bush was a man of the highest character and the best dad a son or daughter could ask for. The entire Bush family is deeply grateful for 41's life and love, for the compassion of those who have cared and prayed for Dad, and for the condolences of our friends and fellow citizens."
OTHER U.S. PRESIDENTS PAY TRIBUTE
Other US presidents including Donald Trump and Bill Clinton also paid tribute to Bush in separate statements. Trump described him as a person "with sound judgment, common sense and unflappable leadership" while Clinton was grateful for their friendship and his impeccable record of service. He said,
"Few Americans have been—or will ever be—able to match President Bush's record of service to the United States and the joy he took every day from it."
Bush will be laid to rest on December 5.
Please fill in your e-mail so we can share with you our top stories!