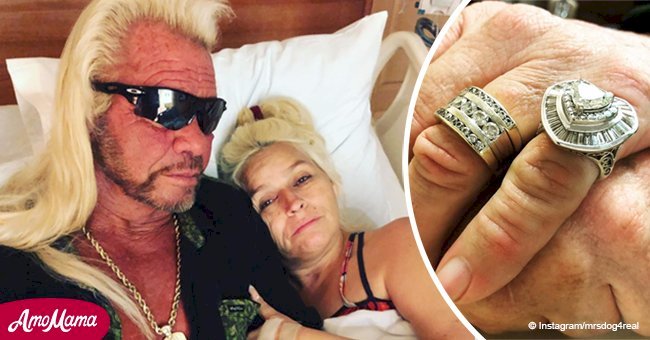 Beth Chapman shares an intimate photo taken with her husband amid cancer battle

Beth Chapman, the wife of "Dog the Bounty Hunter," is going through a horrific struggle since her throat cancer returned. She comforted fans with a heartwarming post on social media.
The 51-year-old posted a sweet photo to Instagram of her hand over husband Duane Chapman's. Two large silver and diamond-studded rings lay on her pinky and ring finger.
She accompanied it with a lengthy caption reposted from a friend. The post can be found below.
Follow us on Twitter for more @amomama.
It began:
"It is the small things... He indeed holds her heart in his hands. In the wee hours as we await the call of her emergence from the event, I am struck by many things."
The caption was reposted from friend Rainy Robinson. Chapman pointed this out in the pre-intro of the post.
She continued:
"There isn't much to do while you wait. Literally time feels like it's standing still. So, you think. You watch."
Robinson then spoke of the love that perseveres in the family:
"They are indeed the crazy glue that keeps each other together. I watch as the patriarch field constant contact from the outside wanting any shred of news. He guards her. Fiercely. He is in his own private hell."
She added:
"You know this. You can see it in his eyes and hear his voice crack when he speaks of her. He guards her as she has guarded him so many times before. Unwaveringly and conditionally."
"What the future holds for all is unknown," she said. Then, she concluded:
"You see, it is indeed the small things. The gestures, the soft words spoken, being present, providing encouragement, being humble, saying silent prayers, a wink a squeeze of the hand or uttering the word Chiricahua. All of it matter. Every. Single. Thing."
Beth returned to her Colorado home after doing emergency surgery last week. Doctors advised against it, but the mother of four wanted to be comfortable and with her family.
Duane wrote a post around the time of his wife's emergency visit to the hospital saying "prayers are welcomed, please. This is happening today."
He later told Us: "They say the cancer follows the path of least resistance, so it goes downward. Half of her lung was full of water."
Beth returned in a wheelchair and was greeted by friends. She slept for a day before waking up and trying to do house chores.
Duane said:
"... she was trying to do things around the house, trying to do laundry and wash the dishes, I said to her, 'I've done all that, don't worry.'"
Test results should be coming in on Monday. Duane is "nervous" about it but happy that Beth is "much more comfortable now [that] she can breath" in Colorado.
Beth's first Instagram post following the news was one of her and her husband laying on the hospital bed. It came just two days after her surgery at the Cedars-Sinai Medical Center in Los Angeles last Tuesday.
She wrote: "Another bend in the road, yet not the end of the road." With attorney Andrew Brettler speaking on the illness as "serious," we sure hope Beth is able to stick it out once again.
Please fill in your e-mail so we can share with you our top stories!