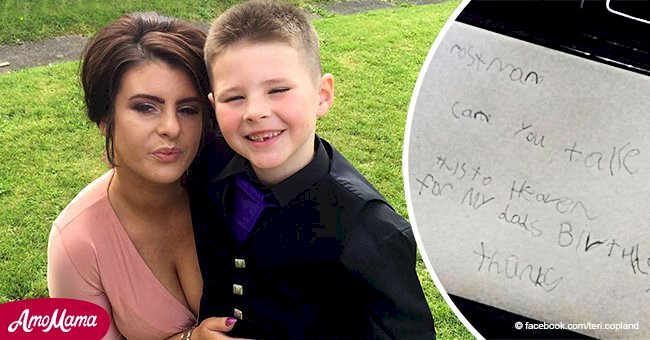 Boy sends postcard to his 'dad in heaven' and gets a reply
It would be safe to assume that the postal service only exists on earth, but one little boy from Scotland found out it is possible to post letters to Heaven via the Royal Mail.
A seven-year-old boy, Jase, from Bathgate in Scotland, lost his father three years ago. This year he wanted to post his father a birthday card in heaven. Jase wrote the instructions on the envelope, and a reply soon followed.
The Royal Mail sent him a letter back assuring him that the birthday card had been delivered safely. They also committed themselves to continue to safely deliver items to heaven.
Read more on our Twitter account @amomama_usa
Jases's mother, Teri, shared a picture of this letter on Facebook and the post has gone viral and has been shared nearly 70 000 times.
Teri did not expect a response and was so grateful to the Royal Mail for going to the lengths they did to put a smile on Jase's face.
WHAT THE LETTER SAID
Jase could not get his late father a birthday present, but he thought that he at least deserved a card for being such a great dad while he was alive. The Royal Mail's response to this was a letter fit for a seven-year-old's imagination.
The Royal Mail's assistant delivery manager, Sam Milligan, wrote a letter back to Jase saying:
"This was a difficult challenge avoiding stars and other galactic objects en-route to heaven. However, please be assured that this particularly important item of mail has been delivered."
Teri wrote in the now viral post that her, Jase, and her daughter Nieve had quite an emotional response upon receiving Sam's letter. She also said that the Royal Mail had restored her faith in humanity.
ANOTHER VIRAL LETTER
While Jase has the certainty of knowing his father is in heaven, a Mexican mother has to resort to posting an open letter online to communicate with her lost son.
Daisy Garcia, the mother of 12-year-old boy Juan Manuel Ruis Garcia, is struggling to cope with his disappearance. She last saw him leaving their home on July 4. So far search and rescue operations have found nothing.
In her letter, she urges him to return and to remember she loves him. Daisy writes,
"I feel that my heart broke to pieces the day you went missing. I only want you to know if you ever read this letter, that I will always wait for you."
Please fill in your e-mail so we can share with you our top stories!