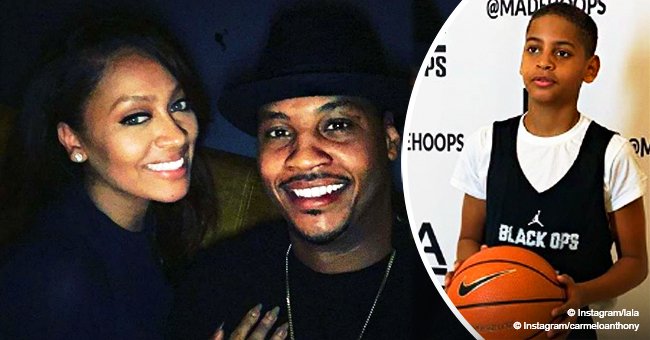 La La Anthony shows off her tall & handsome son looking like dad Carmelo in new photo
La La Anthony puts on her supportive mom hat as she roots for her son ahead of a basketball weekend.
La La Anthony's son with Carmelo Anthony is destined to be a basketball star like his father. A recent photo posted by his proud mother is proof that he's his father's son.
LIKE FATHER, LIKE SON
Kiyan Anthony is eleven and he's slowly carving his way into the world of basketball. With the support of his parents, it won't be a surprise if he follows into his father's footsteps.
Fans of the celebrity couple are very aware of their son's passion for basketball and that he's his father's number one fan. In fact, on his birthday in March, La La revealed Kiyan merely asked for all of his father's jerseys as a gift.
In September, a video surfaced revealing Carmelo training his son at the Houston Rockets facility. In the clip posted by Bleacher Report's Thomas Duffy, father and son are on the court with Carmelo training Kiyan to dribble and shoot baskets from mid-range.
A MOTHER'S PRIDE
La La, on the other hand, is his cheerleader. Case in point, she recently posted a photo of Kiyan all set for a "big weekend." Dressed in black jerseys over a white shirt and black sweatpants, the tall, handsome Carmelo-lookalike holds a basketball while posing in front of a Made Hoops backdrop.
"It's a big weekend for my boy! We are here in VA! Let's go Kiyan," his mother cheers, lending her full support for her son.
BEST FRIENDS
La La has been very vocal about being there for her son not just his mother or cheerleader, but his best friend. Speaking to Redbook, she opened up about how she parents Kiyan.
"I think you have to be in the know of what your kids like and stay cool or stay relevant to what they're doing. I mean, it's a part of just staying connected with your kids. It's important. I tell him he's my best friend and I mean that when I say it."
She also says she avoids being a helicopter mom and allows him to make his own decisions.
"I just let [Kiyan] live life and in living life, I found things that he loves doing. As long as he's in, then we're all in, and once he decides, 'eh I want to try something else,' then we're gonna rock with him on that too."
ON THE VERGE OF A RECONCILIATION?
Luckily for La La, she has the support of her husband, who seems to be getting on her good side again after leaving him in April 2017. The couple has been spending a lot of time together lately, sparking rumors of a possible reconciliation. Their commitment to their son is one of the reasons they've remained friends, according to La La in an interview with Wendy Williams.
During an event in October where the pair were spotted packing on the PDA, La La told People that they're "figuring out how to make it [their relationship] work for what is best for Kiyan" and for them.
It seems like the couple is slowly figuring out that the best thing for their son is to give their marriage another try.
Please fill in your e-mail so we can share with you our top stories!