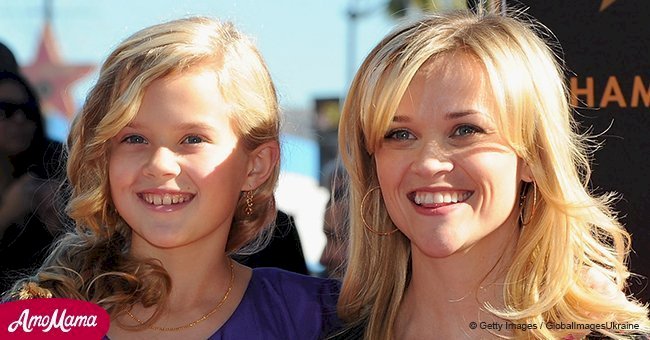 Remember Reese Witherspoon's little daughter? Now she's 19 and looks exactly like her mom

The daughter of the actress is 19 years old, and she looks just like her famous mother now that she is all grown up.
When Ava Elizabeth Phillippe, the daughter of Reese Witherspoon, turned 18 (September 9, 2017,) Reese, best known for her role as Elle Woods in the 2001 film "Legally Blonde," took to social media to post photos to celebrate her daughter's birthday.
Ava is the actress' daughter from her marriage to actor Ryan Phillippe. She also has a brother, 15-year-old Deacon Reese Phillippe, and a half-brother, 6-year-old Tennessee James Toth.
Read more on our Twitter account, @amomama_usa.
For Ava's 18th birthday, her mother surprised her by giving her 18 letters supposedly containing memories written every single birthday.
The photos posted by the actress showed just how similar she and her daughter look. In the first one, Witherspoon can be seen holding Ava approximately 16 years ago, when she was just three years old.
"Happy 18th Birthday to my sweet girl @avaphillippe! Your kindness, grace, intelligence and humor never cease to amaze me. I love you and your HUGE and I feel so lucky that I get to be your mom. #proudmom #18," Witherspoon wrote in the caption.
Among the many birthday wishes were also a number of followers who noticed the close resemblance between Witherspoon and her daughter.
"Great smiles & beautiful blue eyes, two of a kind !" wrote one user, with another adding: "Literally twins."
It's undeniable that Ava inherited both her mother's sparkling bright blue eyes and her blonde hair.
The second photo shows Reese's daughter in a beautifully plain shot. Wearing a loose-fitting white t-shirt and a pair of blue jeans she could be just any teenage girl. Except that once again the trademark Witherspoon look is obvious in her face.
Witherspoon and her daughter are clearly close, as Ava absolutely loved her mother's touching gift of the letters. She posted a photo of the present on her Instagram account.
"18 letters that made me cry (hard) today, courtesy of my lovely mother," she wrote in the caption.
Please fill in your e-mail so we can share with you our top stories!