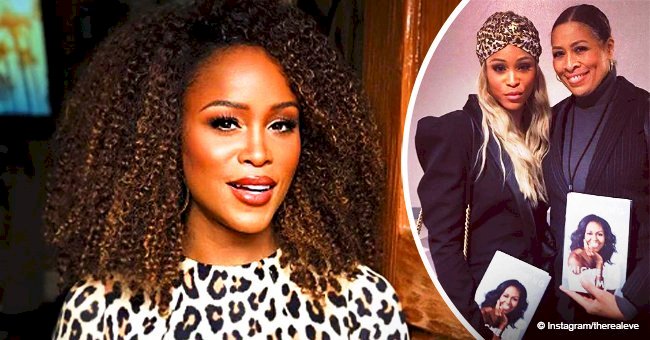 Eve melts hearts with picture of her rarely-seen mother at Michelle Obama book tour even
Eve publicly bonds with her mother sharing a night of inspiring words from Michelle Obama during the former first lady's book tour.
In the midst of a successful career and marriage, Eve took time out recently to spend some quality time with her mother. Their choice of engagement was Michelle Obama's book tour, the perfect venue for women to bond.
BONDING OVER "BECOMING"
Eve's mother, Julie Wilch is not often featured on her daughter's social media page so when she did grace Eve's feed recenlty, it was noteworthy. For one thing, mother and daughter looked quite impressive together, both of them matching in black and toting their copies of the former first lady's book, "Becoming." Eve stood out wearing a golden Gucci headpiece while her mother's smile drew equal attention.
"What a #beautiful #inspiring night to share with my #mom, @thebarclayscenter hearing @michelleobama speak" the singer wrote to accompany the rare photo. She added a message addressed to the famous author.
"#thankyou for writing this book and inspiring not just #women but #everyone."
As a response to the book's title, Eve also wrote,
"I AM #becoming the most Authentic Version of Myself. What are you #becoming"
Fans couldn't help but comment on the pair's uncanny similarity. One follower wrote,
"Your mom is so beautiful! You look just like her."
Another added,
"Nope I won't believe she's your mom your sister yes."
ON BECOMING SINGLE FOR LIFE
Eve's relationship with her mother isn't privy to everyone but she did once open up about Julie supporting her long gone idea that she was never getting married. Back in July, she revealed in "The Talk" that way before she met her husband Maximillion Cooper, she thought she was destined never to get married. She also said her mother was fine with it.
"My mother even said to me once, 'Well, not everyone is meant to get married', and I was like, 'OK cool, I guess I'll just be dating for the rest of my life'."
BECOMING A WIFE
It turns out, marriage was in Eve's horizon when she met the Gumball 3000 founder in 2010 and married him four years later. They recently celebrated their fourth anniversary.
Eve admits falling hopelessly in love with Maximillion.
"I've never been in a relationship with a man in this way and I always say it's my grown-up relationship. We just love each other and support each other and I've never had that before, and I can't wait to have a baby so I can feel that love."
ON BECOMING A MOTHER
The baby, though, seems to be taking longer than Eve expected. In fact, it's been a sensitive issue for the star who's grown tired of people asking about it. In October, she shut down rumors that she was expecting after many noticed a bump in her belly in photos taken at the amFAR gala. She cleared up the issue in her show, "The Talk" and shrugged off the bump as a light belly bloat.
Eve also said the rumors are nothing new as they keep on recurring through the years. She remains hopeful, though, that these rumors would one day be true. Nevertheless, she's perfectly happy as she is – a supportive wife to a romantic husband, a stepmother to his four children, and a singer with a successful career. The baby will be the icing to her already sweet cake. She admits they're trying but ultimately leaves it up to "whoever is in charge." If she's blessed with a child, Eve will gladly become another version of herself - a mother.
Please fill in your e-mail so we can share with you our top stories!