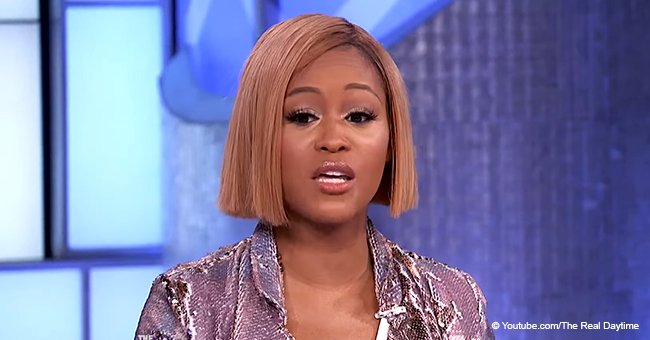 Eve finally breaks her silence about latest pregnancy rumors
Rapper and "The Talk" co-host Eve took her time to address all those pregnancy rumors that have been surrounding the lives of her and her husband, Maximillion Cooper.
Everything began when Media Take Out posted some photos taken at the amFAR Gala in early-October showing her belly bigger than usual and making people believe that the couple was expecting their first child together.
However, Eve cleared up those speculations during a segment of her show saying that what people saw in those photos was nothing but some light belly bloat and that she was not pregnant, "not yet."
A REPETITIVE ISSUE
"But it's funny because this actually comes up every few years. This one particular thing. And hopefully we will soon, so maybe people are just hoping we are pregnant. So, thank you for your good wishes," revealed the rapper.
GETTING RID OF CLOTHES
Apart from that, Eve revealed that she usually gets rid of the pieces of clothing that make her look pregnant. She admitted that she gave away a winter coat because it made her face look fatter than it really was at the time. It is not the first time that Eve gets involved in something related to pregnancy. Last year, she pointed out how annoying it was for her to be asked when she would give Maximillion a child.
ANNOYING QUESTIONS
"I am so sick about people making a big deal about women's ages … the one question that I get is men and women ask me, 'How old are you again? Oh, you don't have any kids? How old are you again?' And I'm like, 'You heard me say how old I am.'"
She finished saying that people should stop asking that because they were trying but it was not up to them but God and the universe. The couple met and started dating Maximillion in 2010 and became engaged in late-December 2013. Almost six months later, they tied the knot in Ibiza, Spain.
Even though they have not had children so far, Maximillion is the proud father of four children from previous relationships. The couple is not afraid of showing their loving relationship on social media, that's for sure.
LOOKING GOOD!
The rapper recently posted a photo posing next to her husband in very elegant outfits in Marrakech, Morocco. She wore a long hot pink dress while Maximillion put on a black suit and bowtie.
At the moment, Eve is focused on "The Talk" while Maximillion is starting to prepare the next Gumball 3000, which is expected to begin in June 2019 and go from Mykonos to Ibiza.
Please fill in your e-mail so we can share with you our top stories!