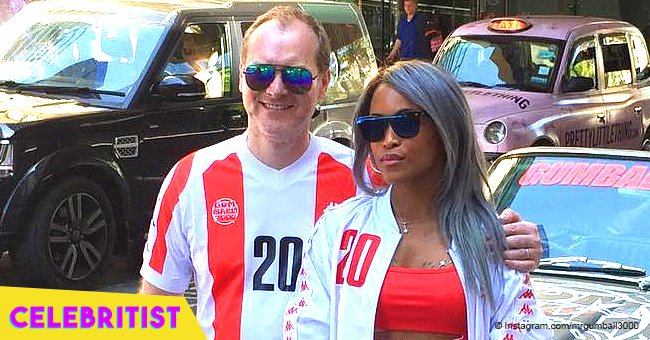 Eve flaunts curves in long pink dress in picture with her husband

Eve shares a stunning photo of herself looking radiant as ever in a long hot pink dress while posing beside her husband, Maximillion Cooper.
A good four years since Eve and her husband Maximillion tied the knot and got married, they are looking stronger than ever, welcoming other people into their own marriages by attending their ceremonies. Recently, they were all dressed up for what seemed to be a formal event in Marrakech.
Maximillion looked dapper in a classic black tuxedo, holding a glass of champagne in one hand to enjoy the occasion. He completed his look with a pair of lace-up leather shoes and square-shaped sunglasses.
Meanwhile, beside him was his beautiful wife Eve, who looked like the supermodel that she is in a pink one-shoulder dress which featured a long thigh-high slit. Her pink ensemble highlighted her curvy figure, and her long slit and simple open-toed heels gave emphasis on her slender legs. Like her husband, she opted to wear shades with her outfit, this time a pair of oversized and mirrored sunnies.
Eve and Max met in 2010, during a Gumball 3000 rally, which is Cooper's brainchild. The singer admitted that this meeting changed her life forever, and has made her the person that she is today. During an interview with Cocoa Fab, she dished:
"Being married has changed me in a lot of different ways. It's funny because I'm a really fiercely independent person and I always have been. Being married, you have to relinquish some of that. Not in a bad way but in the way that you need to sit back and trust your partner to be able [to] help you with things. Sometimes my husband has to say to me, 'Chill. You're my wife now. I can take the ball from here. Don't even stress.'"
Eve and Maximillion's trip to Marrakech is yet another one of their around-the-world escapades, which they have been enjoying since they were just a couple. Now that they are married and have all the time in the world to spend together, they've been making the most out of it by seeing the world one adventure at a time.
Please fill in your e-mail so we can share with you our top stories!