Lenny Kravitz pays tribute to daughter Zoë on her 30th birthday in heartfelt post
Zoë Kravitz clocked the Big 3-0 on Saturday, and her dad marked the day with a memorable photo and an even more remarkable message.
The 54-year-old musician took to Instagram with a throwback snap of he and his daughter enjoying a motorcycle ride. The black-and-white image shows a younger Zoë holding on to her father with one hand and throwing up a "rock on" signal with the other. The "Big Little Lies" star also playfully stuck out her tongue.
"...My mother's a beautiful woman and I think, in some way, I felt intimidated by that sometimes."
Lenny's message was equally touching:
"Happy birthday baby girl @zoeisabellakravitz. We ride 'til the wheels fall off. I love you beyond comprehension. Xx."
COOL DAD
The picture is a perfect description of the father-daughter bond shared by Zoë and Lenny. In an October interview with Rolling Stone, the actress recalled what it was like to have a "cool" dad. Zoë lived with her mom, Lisa Bonet until she moved to Lenny's Miami home at age 11.
"He'd pick me up, and the entire school would flock to the parking lot," Zoë revealed, adding:
"And he wasn't being subtle: He'd show up in a sports car and leather pants and a netted shirt. Like, 'Dude, can you just be low-key a little bit? Just a shirt that I can't see your nipples through would be so dope.'"
Before the move, Zoë admitted that she didn't get to see her father very often, but it wasn't because he chose to abandon her.
"He wasn't absent," she confirmed. "But he was working a lot. I didn't feel abandoned or anything. But when you're that age, and someone comes and goes, it feels like Santa Claus or something -- it's this event."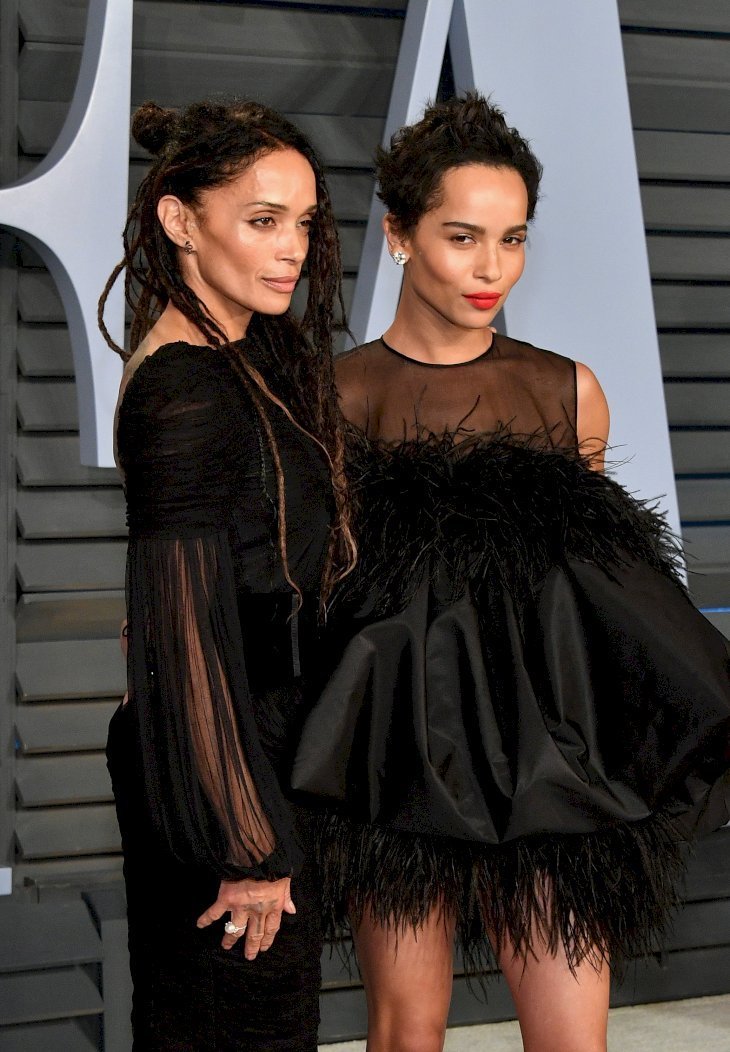 CHILDHOOD INSECURITIES
Furthermore, the "Fantastic Beasts" star confessed that having two famous parents took a toll on her self-esteem for a while. Her mother is one of Hollywood's most beautiful and talented actresses, and her father is an accomplished Grammy Award-winning musician, so Zoë naturally felt insecure.
"When your mom and dad are both so cool but you're not, I think maybe that's where I get this idea that I'm really not cool. That has stuck with me forever. I had a really hard time when I was 16, 17, 18. Just loving myself. My mother's a beautiful woman and I think, in some way, I felt intimidated by that sometimes."
ZOË'S NEW MAN
Besides her parents, Zoë celebrated her 30th birthday with another special person: her fiancé, fellow actor, Karl Glusman. The actress casually announced their engagement in October, but she said "Yes" back in February.
"I wanted to keep it private," Zoë explained, before revealing Karl proposed to her in their living room.
Happy birthday, Zoë. 30 sure looks good on you!