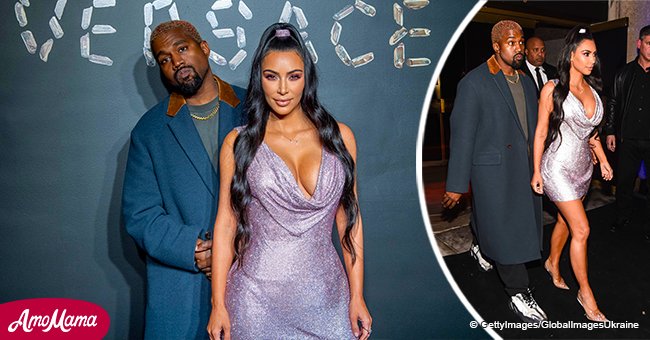 Kim Kardashian draws all attention to her breasts wearing a plunging silver mini-dress in public
Kim Kardashian dazzled at the Versace Fashion Show in a glittering silver mini dress.
Kim Kardashian stepped out with husband Kanye West and dazzled the onlookers, flaunting her sensual figure in a glittering silver minidress, reported Express.com on December 3, 2018.
The star of "Keeping Up With The Kardashian" proves that she is as beautiful as ever and that neither her 39 years not being the mother of 3 has affected her figure.
Kim is a well-known fashion icon and is often seen in bespoke creations by some of the world's greatest designers.
KIM DAZZLED AT THE VERSACE FASHION SHOW
Kim was one of the many celebrities present at the launch of Versace's Pre-Fall 2019 Collection in New York CIty, hosted by celebrity designer Donatella Versace.
The reality star threatened to outshine the supermodels strutting on the runway with her spectacularly plunging neckline that drew all eyes to her shapely breasts.
SILVER AND PINK WAS THE THEME
Kim wore a pair of clear perspex high heels to complement her dress and accentuate her long, tanned legs. Her ebony tresses were swept up in a sleek ponytail, and her make up was in delicate shades of pink and silver that flattered her exotic features.
.KIM'S FASHION CONNECTION
Kim is a well-known fashion icon and is often seen in bespoke creations by some of the world's greatest designers. She is also known for wearing off-the-rack affordable clothes by brands such as Fashion Nova.
Her husband Kanye West has launched a fashion line, Yeezy, that is characterized by dramatic fashion shows. The brand collaborates with Adidas, Nike, and Louis Vuitton and displays the unmistakable marks of Kim's fashion influence..
Read more on Twitter Amomama USA.
KIM KARDASHIAN IN A CALIFORNIA PRISON
Kim Kardashian took a reality-check from glamour and glitz and visited a women's prison in California where she met some of the inmates.
Kim visited the California Institution for Women in Corona and wanted to know what it's like to live behind bars. The socialite wants to create a program to help women who are released from prison to adapt to life on the outside.
The reality-TV celebrity is an advocate for imprisoned women and appealed successfully to President Donald Trump for the release of Alice Marie Johnson, who had been sentenced to life in jail with no chance of parole in 1997 for drug trafficking.
As a result of Kim's intervention, President Trump granted her clemency, and Johnson, 63, was released after serving 21 years at the Federal Correctional Institution in Aliceville, Alabama.
Please fill in your e-mail so we can share with you our top stories!