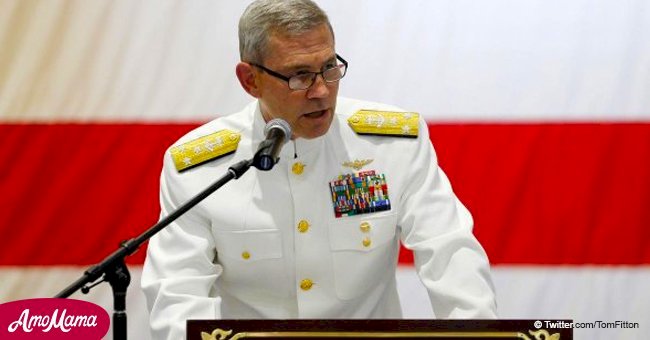 Navy Admiral Scott Stearney found dead after committing suicide
Vice Admiral Scott A. Stearney has been confirmed dead in a statement released by the Chief of Naval Operations in the USA. The cause of death was suicide.
The US Naval Forces' Chief of Naval Operations, Admiral John Richardson released a statement on December 1 stating that Vice Admiral Scott A Stearney has died due to suicide. Stearney was the commander of the fifth fleet.
Richardson's statement notes that Stearney had won many medals and awards during his 36-year career and that he was a friendly and caring person to everyone in his life.
Read more on @amomama_usa.
Admiral Richardson also notes that Stearney's family, friends, and fellow naval staff are going through a difficult time. He requests that everyone keeps them in their prayers and thoughts.
EFFECTS
The Bahrani Ministry of Interior along with the Naval Criminal Investigative Service is conducting an investigation into Stearney's suicide. However, there is no suspicion of foul play.
Stearney's duties have been taken over by Rear Admiral Paul Schlise. The fifth fleet of the US Navy is responsible for naval operations in the Middle East; including regions such as the Red Sea, Arabian Gulf, and the Suez Canal.
NAVAL CAREER
Stearney's naval career began in 1982. In 1984 he became a Navy aviator during which time he was part of a squadron of strike fighters. He also served as chief of staff in Afghanistan.
In May Stearney stepped into the position of commander, where he oversaw the US Naval Forces Central Command. However, this was the last naval post he would ever hold.
WAR VETERAN DIES
It is not only active servicemen who are dying, but also war veterans. Recently a Vietnam war veteran died, and no family or friends of his could be contacted because his body was unclaimed.
A military themed Facebook page posted about his funeral and invited people to attend. His local community of Nashville showed up in their hundreds to honor his legacy.
A World War Two veteran, Peter Gouldstone, did not have such an honorable end to his life. Peter was violently robbed at his London home and died in hospital as a result of injuries sustained during the attack.
The 98-year old's robbery and death are being investigated by local authorities. There is currently a reward for anyone who can approach the British police with information relating to the incident.
Please fill in your e-mail so we can share with you our top stories!