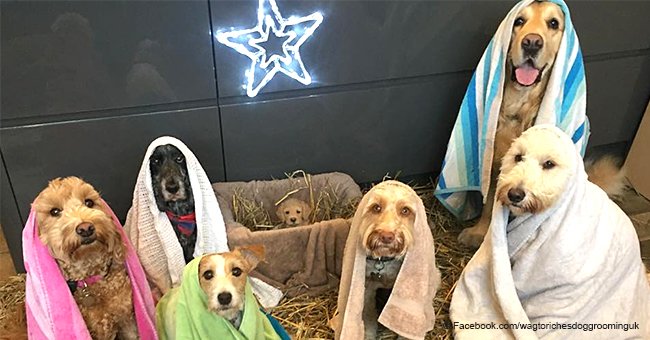 Dog groomers go viral after creating a canine nativity scene
Joanna and Toby Kingston, two dog groomers from England, felt the Christmas spirit and, with the help of nine of their best canine clients, they recreated the Nativity scene.
The photos of the adorable and stunning act went viral right after they shared it on the Wags to Riches Pet Services Facebook page. The principal characters of it are a mix of spaniels, collies, and a bichon frise.
One of the cutest members of the cast was Barney, a cockerpoo puppy that portrayed baby Jesus. Apart from him, the dogs represented Mary, Joseph, the Magi, and some other animals from the original Nativity scene.
Joanna revealed that while the photos showed the dogs calmly sitting in their positions and looking front, it was very difficult to keep their attention and get the perfect shots. She jokingly said that they needed a lot of ham and cheese to bribe the stars.
"The pictures came out perfectly, and we think they really depict the Nativity scene well and in a funny way. We just used objects that were lying around to create the 'Wise Men', by using blankets and towels for their cloaks, and ordered a couple of objects to make it that bit more accurate," admitted Joanna.
Apart from that, the groomer said that they only had about 30 minutes to get the photos done, which made the task even harder. Even though Joanna and her clients were pessimistic before the photoshoot started, they loved the result.
Joanna said that she got a great response from people after they uploaded the images as most of them said that it looked very similar. The groomer added that one of the reasons nobody could stop talking about it was that the "pooches look adorable."
"We made sure we gave the dogs a lot of fuss after taking the photo, but they were happy posing and wearing their costumes. It was a great way for us to all get in the Christmas spirit in our own unique way!" finished Joanne.
Those cute dogs were not the only ones who became Internet sensations. Duffy, an Irish Terrier, attracted a lot of attention due to his reaction when he saw his owner for the first time after a long time thanks to corrective surgery for his eyesight.
Duffy and his owner, Benjamin May, formed an unbreakable bond over the years. Unfortunately, the dog felt blind due to diabetes. After getting the surgery, Duffy was a completely new dog, and his happiness was evident in the video that the proud family uploaded.
Please fill in your e-mail so we can share with you our top stories!