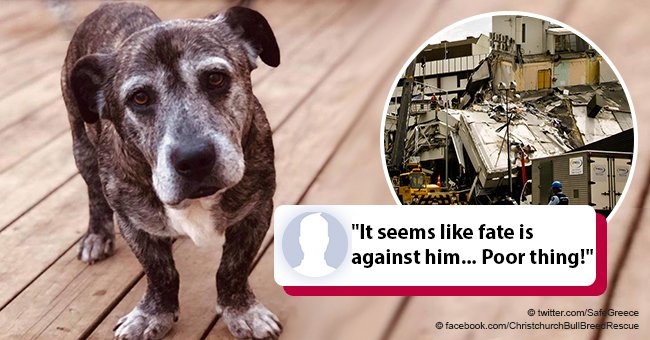 Sweet elderly dog with short, stubby legs can't seem to find a loving forever home

Duke, a bully mix, has lived a very tough life bouncing from one house to another. People from the Christchurch Bull Breed Rescue is doing their best to find a family for him.
Back in 2011, Duke was living with a loving family in Christchurch, New Zealand. Unfortunately, a deadly earthquake struck the place, causing chaos and a lot of damage in different buildings.
Thankfully, the dog survived, but his family couldn't find him anymore. After the natural disaster, several "homeless" dogs were sent to other parts of the country.
LIVING IN THE OPPOSITE END OF THE COUNTRY
In Duke's case, he ended up in Auckland, at the opposite end of New Zealand. Sadly, the dog started bouncing from home to home as no family would keep him with them for more than a couple of years.
After a while, Duke started living in a shelter. One of the saddest aspects about it is that nobody reported him missing or came forward to claim him. Apart from that, the shelter has tried to contact the numbers attached to his chip, but no one responded.
STARTING A BETTER LIFE
Thankfully, Abbey van der Plas, the founder of Christchurch Bull Breed Rescue, saw his photo online and took care of him. She revealed that even though they don't know exactly how many homes the dog has lived, they believed "at least four while in Auckland, possibly more."
Due to Abbey's efforts, Duke came back to Christchurch, where his life began. The lady admitted that, after sharing more photos of him and describing him as a playful and talkative dog, several people have offered to adopt him. Duke is very likely to find a forever home sooner rather than later.
WAITING FOR MORE THAN FOUR YEARS
Unfortunately, Duke is not the only dog who has gone through a difficult life. Ginger, a Staffordshire bull terrier, became an internet sensation after a photo of her posing with a sign hanging on her neck asking people to adopt her hit Facebook.
In the image, the dog appeared sitting and looking directly at the camera with the sign that read, "I have been in the shelter for 1,456 days. Please adopt me." The message written in the caption was heartbreaking, too.
Ginger was a stray dog that was taken to the shelter in 2014 and had been waiting for someone to take her home for a long time. "Ginger would like to be the only princess," read the caption.
Please fill in your e-mail so we can share with you our top stories!