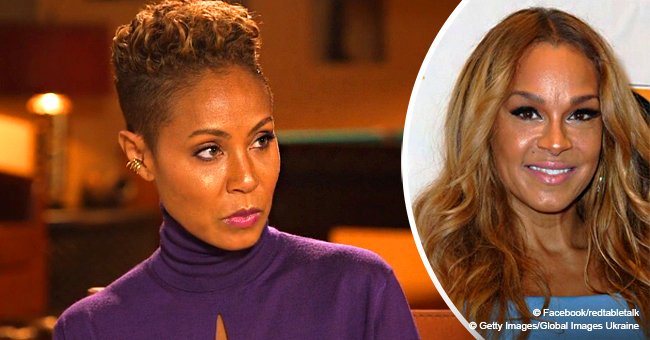 Jada Pinkett Smith reveals what forced her to get along with Will Smith's ex wife Sheree Fletcher
During Jada Pinkett Smith's most recent episode of "Red Table Talk", she revealed the reason she was forced to get along with Will's first wife, Sheree Fletcher.
On "Red Table Talk", Jada Pinkett Smith and Toni Braxton openly discussed marriage and divorce. This conversation was then followed up with another live version of the show, where Jada and her mom Adrienne Banfield-Jones invited a psychotherapist named Stacy Kaiser to discuss more on the topic with her. During this talk, the issue of Jada's relationship to her husband's ex-wife Sheree Fletcher was brought up.
Kaiser shared that in terms of the difficult dynamics of blended families and co-parenting, the priority should always be the children.
"You need to find a way to get along with them because you wouldn't be dating that person if it weren't for the person who they broke up with."
Jada then easily agreed, saying how her relationship with her stepson Trey Smith laid the foundation for the positive shift of her relationship with his mother, Sheree.
"One of the coping mechanisms with me with Sheree was really, like, 'Hey, she gifted me.' She really did. She gifted me. I started to put that into my psychology. She's not an enemy. She did me a favor. But then on top of that I had to go into an even deeper psychology of, 'She's Trey's mother,' as my relationship with Trey deepened."
Since entering Will's life, Jada embraced Trey as her own, with him joining them on their trips and even at home. This has led her to want to become in good terms with Sheree, as it's not only she that allowed her relationship with Will, but also with Trey.
"Until that relationship develops and you start to see the importance, and you really have a care for that child, that does become your primary [concern]—I've had to go through many different stages of getting to good places. It's a process. It's very difficult coming into a dynamic like that, and it doesn't stop."
Jada always brings the most heated discussions to the table, and this has enlightened fans about the most trivial topics. Her wisdom and thoughts are what thousands can relate to, and this is what keeps people coming back to watch more episodes.
Please fill in your e-mail so we can share with you our top stories!