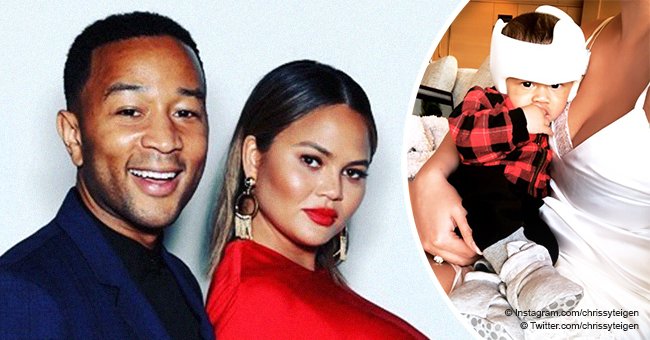 Chrissy Teigen reveals son Miles has to wear helmet due to his 'slightly misshapen head'
Chrissy Teigen assures fans her son is a "happy bug" after sharing photos of him wearing a helmet.
Chrissy Teigen is giving her fans a heads up about her baby's head. Her son Miles will be wearing a helmet for a while to fix its shape.
A NEW LOOK FOR BABY MILES
Teigen tweeted a couple of photos of her 6-month-old sporting the new look and assured fans he's fine.
"don't feel bad for him because he's just fixing his flat and honestly he's probably gonna be even cuter with it somehow."
THE REASON BEHIND THE HELMET
Miles has what is known as Plagiocephaly, a condition that's common among babies who develop a flat head. It's also referred to as the Flat Head Syndrome which is quite harmless and is usually caused by babies' constant lying on their backs.
FANS CAN RELATE
Fans of the supermodel chimed in on her post, some of them revealing that they went through the same thing with their children. One fan even asked
"Is this the official babies with helmets thread?"
Teigen replied with an emphatic "I HOPE SO it is so great!!!"
MORE REASSURANCES FROM TEIGEN
Miles "is a happy bug" according to Teigen in a separate Instagram post where she explains that they're "just fixing his flat." She even makes a joke out of it and tweets,
"I've been told it's too late for me."
LIKE FATHER, LIKE SON
Miles is a dead ringer for his father, John Legend. The pair recently featured in a photo revealing their striking resemblance. Father and son were on a couch surrounded by chocolate-colored teddies and there's no doubt that they come from the same mold.
FORGING A BOND WITH OLDER SISTER LUNA
Legend and Teigen are also is parents to two-year-old Luna. The couple has been making sure their daughter doesn't feel left out after the arrival of her brother. Just recently, Teigen shared a touching video of the little girl attempting to feed Miles with a bottle of milk. At one point, she's even teaching him to hold the bottle on his own. This prompted Teigen to post a crying emoji in her caption, marking the milestone as a feat after worrying that Luna might see Miles as a competition.
Everything seems to be perfectly fine with the Legends, apparently.
Please fill in your e-mail so we can share with you our top stories!