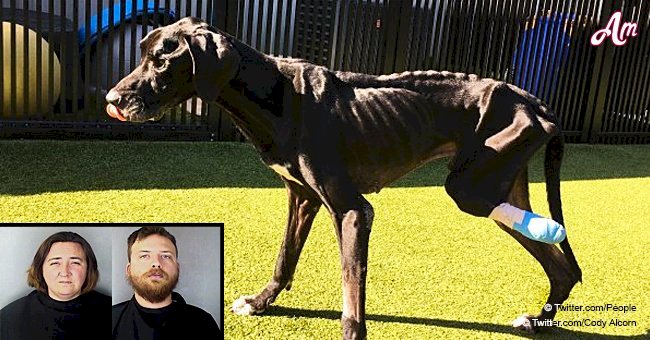 Owners charged after their starving dog that got stuck in a cable chewed his leg off
Two dog owners have been charged in South Carolina after their Great Dane chewed off his own foot because he was tied up and starving.
Owners Jessica James, 32, and Skylar Craft, 38, have been charged with ill treatment of animals. They left their Great Dane tied up without food for weeks.
The dog was forced to chew off his own foot to escape. He was eventually rescued on November 19 after a neighbor notified police that it had chewed off his foot.
The Noah's Arks Rescue is now taking care of the 6-year-old Great Dane named Luke. He was rescued in Ware Shoals, South Carolina.
Unfortunately after Luke chewed off his foot the area got infected. Due to an infection that has invaded his bone, his entire leg needs to be amputated.
"Poor Luke has got to be one of the saddest cases we have had in a long time. All of the pups we save are sad and desperate but his reaches down into your Soul." said Noah's Ark Rescue said on December 2.
"Luke was so distraught and scared that I decided we needed to go ahead and get him out of the Hospital for a couple of days to get him settled down. The good news is within a couple of hours of being with us at the Rehab Center, he began to relax and was no longer fearful."
At the time of his rescue, the 6-year-old Great Dane weighed only 70 pounds. He should weigh about 140pounds.
Most of Luke's complications seems to be related to his starvation. To be safe a biopsy was done but it came back clear of any cancer.
"Luke has lots of intestinal issues and came in with constant runny diarrhea. His intestinal problems have to be our top priority, or he will not survive. Dogs like Luke will eat anything to survive. His liver does not indicate he ate something poisonous, but we cannot rule that out." wrote Noah's Ark Rescue on their website
The website later posted an update on his condition. They said, "We are hopeful he will bounce back, and we can bring him back in a couple of days. A lot of Specialists have to be involved in his surgery on Tuesday to make sure he pulls through his procedure. Luke's bills are already over the top. "
They urge owners to remember that their pets need love and attention and that abandoning them is not an option. In another heartbreaking story, an owner abandoned his dog outside a shelter in Tennessee.
While the man simply got in his truck and drove off the poor dog chased the vehicle for a long time. His chase proved how much he loved him and that he didn't want to be left alone.
Please fill in your e-mail so we can share with you our top stories!