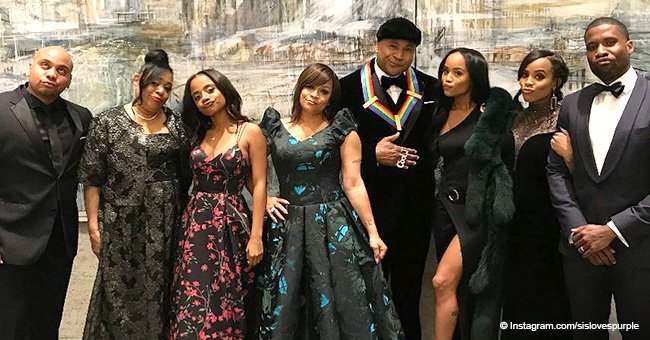 LL Cool J and wife strike the same pose with their children in throwback photo
LL Cool J and his wife Simone know how to be cool, and they proved it on a throwback pic shared by Simone on Instagram. The pic, taken a year ago, celebrates LL Cool J as the first hip-hop artist being honored by the Kennedy Center Honors.
Simone Smith is a proud wife and she's not shy when it comes to showing off her husband's accomplishments. It's been a year since Queens-born rapper LL Cool J became the first ever hip-hop artist to receive a medallion at the Kennedy Center Honors ceremony.
To commemorate the occasion, Smith took to Instagram to share a family photo taken that same day. In the pic, the couple poses with their kids: son Najee and daughters Italia, Samaria, and Nina. LL's mother Ondrea Smith and Italia's husband, Lamar Cardinez, are also in the pic.
All dressed in their best evening gowns; the family made the same nonchalant expression to the camera, which only added to highlight their striking resemblance.
FANS' REACTIONS
"A year ago today my hubby @llcoolj was the first hip-hop artist to receive a #kennedycenterhonor GOD IS SOOOOOO GOOD!!!!" Simone captioned the pic.
Fans of the Smith family immediately filled her comment section gushing about how classy and unique they are. "Love this and Yess!!! Still got his way around girl!!! #reallove #familyiseverything #thesmiths" wrote one devoted follower.
And another added,
"I know that was a proud moment for @llcoolj and his family. God has blessed you all tremendously, and I pray you to continue to be blessed, now he just needs to be inducted into the rock and roll hall of fame!! And by the way, I love the face poses in this pic."
REMEMBERING THE SPECIAL EVENING
On the ceremony, LL shared the spotlight with along with Gloria Estefan, Lionel Richie, TV producer, and writer Norman Lear, and dancer and actress Carmen de Lavallade, who were also honorees at the ceremony.
"I am blown away. This is the biggest musical award you can receive," LL told the Washington Post back then. "To be recognized by your country, and to be able to represent hip-hop as an art form is amazing. I'm surprised, grateful, humbled and honored."
Queen Latifah, The Roots, and Busta Rhymes were in charge of introducing LL Cool J's and performing some of his hit songs in a ceremony that marked the first time in 40 years that the president doesn't attend the event.
Donald Trump decided to skip the ceremony after Lavallade and Lear made clear they were not going to attend any ceremony where Trump was present. "The President and First Lady have decided not to participate in this year's activities to allow the honorees to celebrate without any political distraction," said a statement from the White House.
IS THE ROCK & ROLL HALL OF FAME NEXT?
LL Cool J is nominated as one of the possible inductees for the Rock & Roll Hall of Fame in four occasions: in 2010, 2011 and 2018, but he did not gather enough votes to win.
He's now being considered for the class of 2019 alongside Janet Jackson, Def Leppard, Devo, John Prine, Roxy Music, Stevie Nicks, Todd Rundgren, Kraftwerk, MC5, Radiohead, Rage Against the Machine, Rufus highlighting Chaka Khan, The Cure and The Zombies.
Maybe this time, he will be lucky and get the votes he needs to, finally, get his well-deserved spot in the memorable Hall of Fame.
Please fill in your e-mail so we can share with you our top stories!