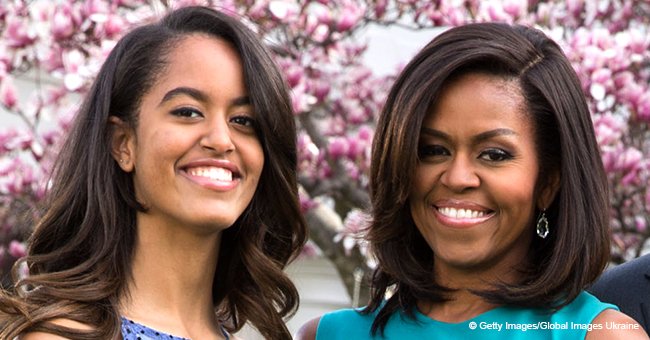 'We'd stress over ... the boys we crushed on' Michelle & Malia Obama compare high school years
Michelle Obama opens up about her awkward teenage days and how she and her daughter Malia shared the same sentiments in high school.
Before she snagged the man who would eventually become one of the most powerful personalities in the world, Michelle Obama was merely a teenager who fawned over her crushes and pretty much stressed over trivial things teens stress about.
This was the revelation she made speaking to Good Housekeeping for its January issue where she graces the cover. Michelle says she realized while speaking to her daughter Malia recently that they had a lot more in common than she thought.
"We laughed about how many hours were spent inside our heads, hoping a boy would ask us to dance,
Like her, Malia, now 20, worried about crushes, clothes, and image in high school.
"Malia and I were talking recently about all the little things we'd stress over in junior high and high school — whether we're wearing the right clothes, a snarky comment somebody made about us, the boys we crushed on, and on and on and on."
The former first lady added,
"We laughed about how many hours were spent inside our heads, hoping a boy would ask us to dance, or stewing over a big test, just doing everything we could to avoid even the most minor embarrassments."
MALIA'S PROM NIGHT
Michelle recalls wondering if other girls obsessed over the same things she did back then. Apparently, they did, even generations later as confirmed by her daughter.
She witnessed this too firsthand when Malia went to prom in 2015. In her new book, "Becoming," Michelle reveals Malia was so nervous about her date. She liked the boy and wanted everything to be perfect when he picked her up at the White House so she asked her parents to "be cool."
ON YOUNG PEOPLE TODAY
Though high school girls today seem to share her own sentiments back then, Michelle told Good Housekeeping that young women nowadays "are triumphing in incredible ways."
"Unlike my generation, they're not as held back by the societal belief that girls and boys can't do the same things."
ON HOW HER GIRLS TURNED OUT
Michelle is also proud of the fact that Malia and her younger daughter, Sasha, 17, have managed to grow up normally, despite being thrust into the limelight.
"They've managed the situation with poise and grace and they are normal and kind and smart and friendly and open. It could've gone so wrong."
What Michelle didn't say which we all know is a great part of the reason her girls turned out the way they did is they have an incredible mother guiding them every step of the way.
Please fill in your e-mail so we can share with you our top stories!