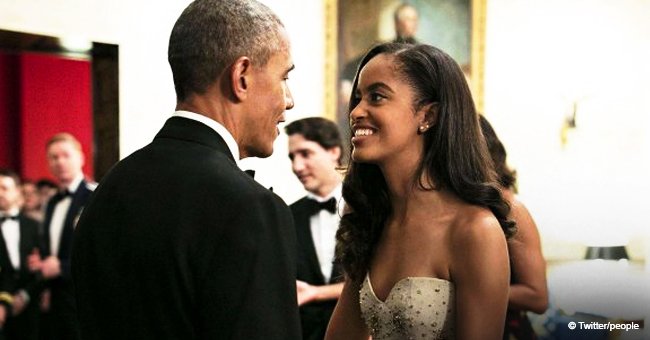 Michelle Obama shares what daughter Malia's prom night was like with 'a boy she kind of liked'
Michelle Obama, the former FLOTUS, recalled the night when her daughter Malia asked her and Barack to "be cool" because a young man "she kind of liked" would take her to prom.
The wife of former President Barack Obama has been making headlines recently with her new memoir titled "Becoming." In it, Michelle wrote different stories of her time before and during her husband's presidency, as well as their marriage, and other topics.
One of the things she addressed was the time her eldest daughter, Malia, was getting everything ready to go to prom. It happened in 2015 when a boy she "kind of liked" invited her to the special night.
ASKING TO "BE COOL"
Before the unnamed boy dropped by to pick Malia up, she made sure that her parents wouldn't do anything to embarrass her by telling them, "just be cool please, okay?"
Since both Barack and Michelle knew how important that night was for Malia, they broke protocol and allowed Malia to ride in her date's car. However, several Secret Service vehicles followed them closely to make sure everything was safe.
BEING ASHAMED
Even though most of the night turned out well, Michelle revealed that she could feel Malia's embarrassment just before she and Barack met her date. The former FLOTUS revealed that it happened while they were riding the elevator downstairs.
While they were not even in front of the young man, Malia noticed that her mother was barefoot and her father was wearing flip-flops while she got on a "long black skirt and an elegant bare-shoulder top."
Michelle later admitted that she "stayed cool" greatly due to the assurance that Malia and her date were being supervised by Secret Service agency the whole night – from the restaurant they went to have dinner to the party itself.
"We took what was perhaps unfair comfort in the knowledge that Malia's security detail would basically ride the boy's bumper all the way to the restaurant where they were going for dinner before the dance and would remain on quiet duty throughout the night," wrote Michelle.
HER FERTILITY ISSUES
The former FLOTUS also wrote about her fertility issues. Michelle admitted that she suffered a miscarriage about two decades ago. Since such problem was not something publicly spoken back then, Michelle felt "lost and alone," and that she "failed." She added that women "just sit in our own pain, thinking that somehow we're broken."
Michelle addressed that it was very difficult for her to get pregnant, so she underwent in vitro fertilization (IVF) to successfully welcome her two daughters to the world.
Please fill in your e-mail so we can share with you our top stories!