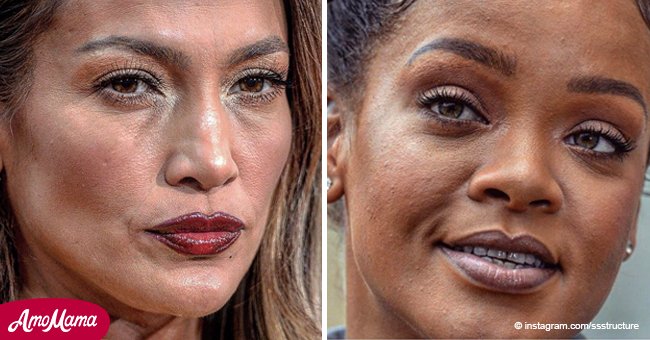 Celebs' photos show their 'true' faces with all imperfections you might not have noticed before
Are you having a difficult day? Did you find a new grey hair or wrinkle? Is there any new eruption on your skin? These photos in HD and without retouching the famous ones will give a boost to your self-esteem.
There are times when we wake up and everything goes well. The hair is perfect. The clothes look great. The skin is beautiful. Other days ... well, not so much. For those difficult days, it is good to remember that this happens even to the most famous and wealthy women in the world.
If they with their millions, coaches, doctors, nutritionists and assistants can't reach that ideal of beauty that they sell us so much, maybe we are not doing them so bad, right?
The problem is how difficult it is to see the face in detail of a famous woman without having been professionally retouched by photographers, editors, publications and stop counting. But an Instagram account has been given the task of "unmasking" the real faces of celebrities.
Usually, the figure of Jennifer Lopez makes it seem that time forgot about this woman. His toned body and iron abdomen melt his followers and are the envy of many. But giving it a high-resolution look, the passage of time is clear in the Puerto Rican singer.
Her marked lines of expression usually disappear from the covers of magazines, as well as the pores of his skin. Also, you notice the imperfections, wrinkles, and blackheads that Photoshop normally hides. Evidence that she is a woman of flesh and blood!
Emma Watson, the actress who became famous for her role as Hermione in the Harry Potter series, sports a complexion with marked lines for her young age. She also presents a less homogeneous complexion than what we normally see on the screen.
Kim Kardashian at 38 years old looks a complexion similar to that of Jennifer Lopez, who is 11 years older. Wrinkles, lines of expression, spots and pimples, it seems that we find the only thing in which the Kardashian are equal to the rest of the world!
Kendal Jenner, 23, is an icon of fashion and a hit on Instagram with her perfect selfies and sensuality. But a high-resolution look reveals a serious pimple problem, barely covered by a layer of makeup.
The English Victoria Beckham, the former Spice Girl, and wife of footballer David Beckham is famous for its beauty and sensuality. However, his 44 years have clearly had a strong impact on his face. Marked wrinkles, pores and lines of expression show a complexion that seems to need a "sweetie".
The star of "Friends" and ex-wife of Brad Pitt, Jennifer Aniston, continues to dazzle on the big screen in sexy roles, as in the recent movie "Horrible Bosses".
However, a high-resolution look at her face clearly reveals the almost 50 years of a woman's life. "Crow's feet", wrinkles, lines of expression and a fallen skin betray her. In this photo, it is even clearer the impact that the calendar has had on the appearance of the actress. Her forehead has marked and deep wrinkles, as well as the outline of her eyes.
Another famous ex-wife of Brad Pitt (after their recent separation), Angelina Jolie has been a sex symbol worldwide for almost three decades. At 43, although Angelina's complexion is far from perfect, we must admit that compared to some of the celebrities on this list, it looks pretty good.
At 26, Selena Gomez should not have much to worry about in terms of beauty. But some spots, pimples, and pores reveal that perfection also slips away. However, you have to admit that his face looks better than other twenty-year-old celebrities on this list.
At 30, Rihanna has a relatively immaculate face. In high resolution, we can notice some pimples, pores and pimples, and the beginning of lines of expression. Not bad for your age!
Rihanna recently returned to Barbados to visit with her mother Monica Braithwaite and father Ronald Fenty. During the visit, the "Umbrella" singer shared photos to her Instagram account of her time at home.
Please fill in your e-mail so we can share with you our top stories!