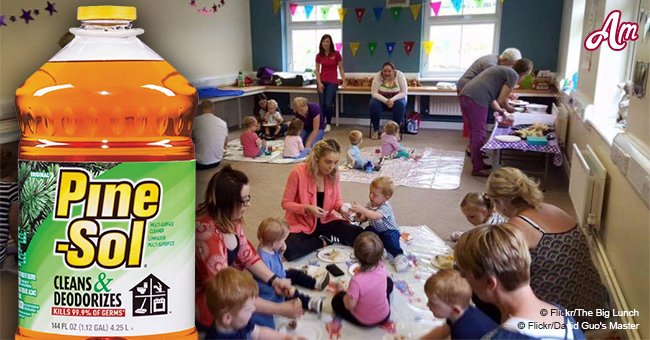 Mom stunned as preschoolers served household cleaner instead of apple juice at school lunch
A parent of a preschooler said she was "absolutely stunned" when she learned about the incident involving three pupils who were given Pine-Sol instead of apple juice.
The three girls – a four-year-old and two five-year-olds – at an East Honolulu preschool were served the cleaning fluid by mistake. The children allegedly had several sips before the staff discovered the error.
According to the investigation conducted by the state Health Department, the classroom assistant working at Kilohana United Methodist Church Preschool prepared the snacks for the children and served Pine-Sol by mistake.
One mother, Andrea Ganote, said she was "stunned. Absolutely stunned." She exclaimed, "My first reaction is wondering why they would store the two in the same part of the building,"
The cleaning fluid was reportedly in its original packaging, and it was labeled correctly.
Follow us on Twitter at AmoMama USA for more details and updates.
The Health Department detailed in its review that the assistant "saw the yellow/brown colored liquid container on a clean-up cart in the kitchen and returned to the classroom" carrying it.
After the staff discovered the mistake, paramedics were quickly called on the scene. The victims received treatment at the school and were not brought to the hospital after confirming that the children showed no signs of sickness or trauma.
The preschool released a letter addressed to the parents and said that it was an "unfortunate" incident, and clarified that no student was harmed.
"Only sips were taken before the lead teacher realized the liquid was not apple juice. The staff responded immediately by calling EMS and police. The children's parents were immediately notified as well."
The school then assured the parents that they would take extra measures to ensure that such an occurrence would never happen again, and they claimed that their employees have been undergoing mandatory training.
According to the Hawaii Health Department, about 12 people accidentally ingest the cleaning fluid each year, and half of them are children.

Source: Twitter/ CNN

Source: Twitter/ CNN

Source: Twitter/ CNN
In another story, four high school students were rushed to the hospital in February after they
ingested
washing detergent diluted with water.
All four of them were safely released after treatment. At the time, it wasn't clear for the authorities whether the incident was an accident or if the students were trying out the dangerous "Tide Pod Challenge."
Please fill in your e-mail so we can share with you our top stories!