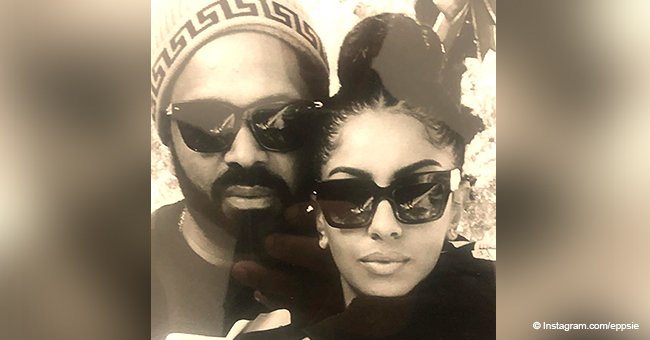 Mike Epps warms hearts as he strikes the same pose as his fiancée in photo
Mike Epps and his fiancé Kyra Robinson are picture perfect in a recent Instagram post shared by the comedian. The couple got engaged only eight months after Epps divorced from his ex-wife of 12 years.
After a messy divorce from Mechelle Epps, Mike Epps decided to give love another chance, this time, with a younger TV producer, Kyra Robison.
SHOWING OFF THEIR LOVE
The pair made their relationship public in the summer of 2017 and had been flaunting their love all over social media since then.
In one of their most recent Instagram posts, the couple looks serious as they pose side to side in a black and white shot. Both wore sunglasses, and Kyra held her long locks in a high bun while Mike opted for a beanie.
"Saabah-al-yassamin!" Epps captioned the picture, which roughly translates to "have a morning filled with Yasmin."
A few weeks ago, Epps celebrated his 48th birthday in Kyra's company. She took to Instagram to share a video where Mike is showing off his dance moves in the background while she smiles. Robinson added in her caption:
"Happy birthday to this amazing man right here. There is no one in this world like you. Keep putting a smile on millions of faces. Love you baby!"
WORKING TOGETHER
Kyra, an NAACP-nominated TV producer that works behind the scenes on OWN's "Iyanla: Fix My Life," said yes to Mike last May in a celebration filled with friends and family. And just a couple of months earlier, they had worked together to create the BET Social Media Awards.
Talking to Rolling Out about bringing the show to life and what was like to work with Mike, Robinson said:
"Mike is really a creative genius. Everything he says out of his mouth screams creativity. He and I had conversations because even though I'm an artist myself, I'm more practical and logical while he's a canvas of colors."
And continued:
"We discussed a lot of projects, and this was one of the ones that he and I came up with together. We realized that people don't really watch TV anymore, so we need to highlight the trailblazers of our time."
Robinson, like Epps, is a force to be reckoned in the entertainment industry. The only difference between their jobs is that she works behind cameras, leading narratives and choosing what is put out there for the audience's consumption.
"For me, as a behind-the-scenes producer, it's amazing to have the ability to be a vessel of information through entertainment," she said. "As a Black woman in a position of power, it's our leadership and voice that shapes the culture, which is a big responsibility."
The couple still hasn't announced a wedding date yet, but fans seem to love how fun they are and have nothing but good wishes for them.
Please fill in your e-mail so we can share with you our top stories!