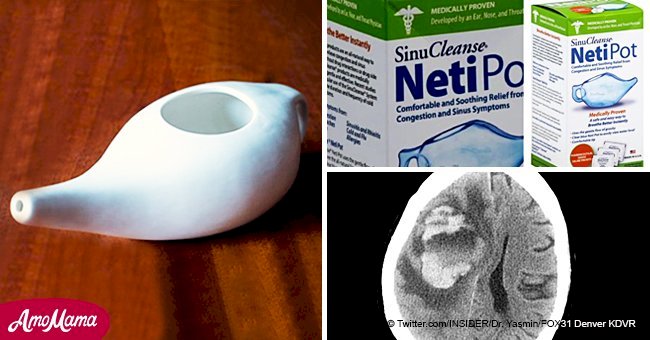 69-year-old woman dies from brain-eating amoeba after using neti pot with tap water

The CDC alerts the public to the danger of using a neti pot with tap water after a woman dies of an amoeba infection.
Neti pots have become increasingly popular with people with sinus troubles. The frequent lavage with the neti pots provides the user with substantial relief, but it can also carry a death sentence.
A Seattle woman who was advised by her doctor to wash her sinuses twice a day with a neti pot to clear up a chronic sinus infection, died from an amoebic infection, reported USA Today. on December 7, 2018.
THE TREATMENT FOR HER SINUS PROBLEMS KILLED HER
The 69-year old woman cleansed her sinuses twice a day for a month with a neti pot, after which she developed a coin-sized rash on the right side of her nose.
Her doctor diagnosed rosacea, a common skin disease that results in localized flushing or a rash. He prescribed an ointment which proved ineffective. The woman then consulted a dermatologist, but tests and a biopsy proved inconclusive.
A SUDDEN SEIZURE INDICATED NEUROLOGICAL CAUSES
A year after she developed the rash, the woman had a seizure, and a subsequent CAT scan revealed a half-inch lesion on her brain. She underwent brain surgery to excise the mass which was sent to Johns Hopkins for analysis.
The CDC has alerted the public to the dangers of using neti pots with non-sterile water
DOCTORS SUSPECTED AN AMOEBIC INFECTION
Just days after her surgery, the woman lost sensation in her left arm and leg and exhibited symptoms of marked mental confusion. A Johns Hopkins neuropathologist suspected an amoebic infection and the required medication was prescribed. However, the woman did not respond and fell into a deep coma, and her family decided to take her off life support.
POSTMORTEM REVEALED HORRIFIC TRUTH
An autopsy revealed the woman had died of a Balamuthia mandrillaris infection, an amoeba that lives primarily in the soil, but can be occasionally found in water.
The investigators discovered that the woman had not followed her doctor's directives that she should use only sterile water or a saline solution in her neti pot. She had used tap water and contracted a brain-devouring amoebal infection.
According to the Center for Disease Control, the infection is extremely difficult to diagnose in a living patient and consequently complicated to treat.
The CDC has alerted the public to the dangers of using neti pots with non-sterile water and has revealed that there have been an estimated 200 cases of Balamuthia infection worldwide, with at least 70 cases in the U.S alone.
Read more on Twitter Amomama USA.
BIZARRE ACCIDENT CLAIMS WOMAN'S LIFE
A woman traveling on Southwest Airlines Flight 1380 died tragically when the airplane experienced a mid-air engine failure.
The engine on the plane's left side exploded, and a piece of an engine fan blade broke off and smashed into the window.
The victim, Jennifer Riordan, a mother-of-two and bank vice-president at Wells Fargo in Albuquerque, New Mexico, was nearly sucked out of the window when the glass broke and depressurized the cabin. Seven other passengers were injured and had to be hospitalized.
The plane made an emergency landing in Philadelphia after a window, wings, and fuselage were damaged in the incident.
The National Transportation Safety Board's preliminary investigation had revealed that an engine fan blade was missing and there was evidence of metal fatigue at the point where it had broken off.
In a related story, the CDC has confirmed that a freshman at the University of Maryland has died after contracting the type 7 strain of the Adenovirus and that another five students are infected.
Please fill in your e-mail so we can share with you our top stories!