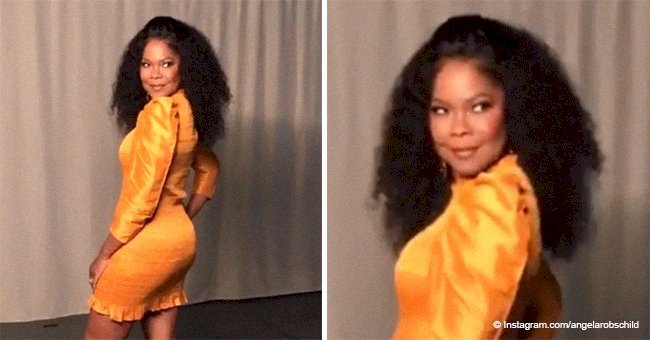 'The Haves & Have Nots' Angela Robinson sets hearts racing in tight orange mini dress in new video
She plays the ultimate villainess in "The Haves & Have Nots," but Angela Robinson looked anything but devious as she posed up a storm recently for the cameras.
Robinson looked sensational in a mini orange dress that displayed her curves perfectly. The actress teamed it with a pair of heels and styled her black curls wild and free.
Robinson was seen striking various poses for the camera, and she revealed in the caption that she was at a promo shoot for "The Haves & Have Nots."
Robinson's promo shoot outfit may have been for work, but the ensemble incorporated something the actress cannot do without: Heels.
In a 2017 interview with FN, the Jacksonville native confessed:
"I love a good heel. I'm not a big flip-flop person. I'm not big on flats. My entire high school life, I wore heels every day. I like to start [my heels] at 4 or 5 inches. I just love heels!"
Robinson also said her style -- unlike her character, Veronica Harrington -- is subtle and that she has no preference for high-end designers. The "Color Purple" Broadway actress, however, admits there are some fashion trends she should not have tried.
"When the midriff [look] was happening, I should not have been in that," Robinson joked. "I think I may have tried it once and my husband said, 'Wow, you look fine.' And I believed it -- I probably shouldn't have."
Although her character on OWN's primetime soap opera is known as the ice queen, cold, scheming, and manipulative, Robinson is the total opposite.
The Florida A&M University alum has been married to her husband, Scott Whitehurst, for 22 years, and earlier this year, they adopted a baby boy. Robinson took to Instagram in June to celebrate her husband on his first ever Fathers' Day. She also revealed their son's name: "Robinson Scott aka Robbie."
Robinson's real life is so different from her character's that she says one of the things she loves about it is how it allows her to go all out when someone gets her mad.
"Playing a villain allows me to embody a different character," said Robinson. "I love it, a whole lot. And also I get to get it all out…when people get me mad, as Veronica, I get to get it all out…I get to be more patient in my life as Angela."
Please fill in your e-mail so we can share with you our top stories!