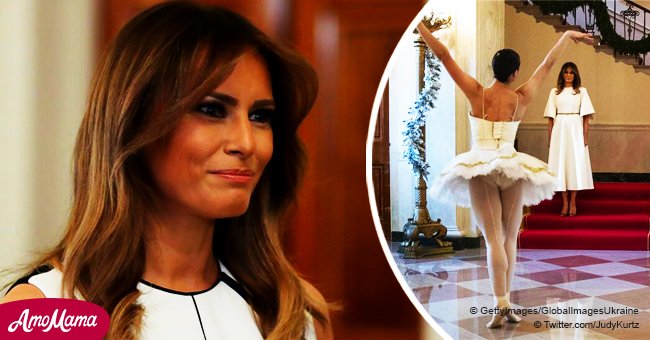 Old video of Melania Trump watching ballet goes viral again, and fans think she's a 'ghost'
A video in 2017 of First Lady Melania Trump has resurfaced on Twitter. Users have been criticizing Trump because of how stiff she looked in the clip that she was even called a "ghost."
The short video was initially posted by columnist Judy Kurtz of The Hill showing the First lady on red-carpeted stairs wearing a white dress and watching ballerinas dance to Tchaikovsky's "The Nutcracker" at the White House.
Twitter users heavily criticized the first lady for how uncomfortable she looked in the video.
She stood on the stairs, rather motionless, and staring straight at the three dancers. Trump didn't even flash a smile.
Follow us on Twitter at AmoMama USA for more details and updates.
A Twitter user, @LoloelRolo, wrote that Trump "looks like one of the ghosty [sic] characters" on "The Haunting of Hill House."
Another user, @chimpvsdog, tweeted that she "looks like she's waiting until they're done so she can cross the floor."

Source: Twitter/ @MauriciooSm

Source: Twitter/ @andressanns

Source: Twitter/ @RosieisaHolt

Source: Twitter/ @chimpvsdog

Source: Twitter/ @LoloelRolo
At the time, the Elite Daily
reported
that it was not clear if the performance was a surprise or not. Regardless, the first lady looked awkward as she watched the performance.
The video became viral again after it was shared by a Twitter user with the name Humans of Late Capitalism.
The controversy follows the recent backlash Trump has yet again received after they unveiled the White House's Christmas decorations this year.
Traditionally, for 200 years, the first lady of the United States has always been in charge of setting up the Christmas decorations at the White House.
For this year, Trump decided to go with crimson-hued Christmas trees. Twitter users were quick to call out the first lady for her choice.
Defending herself, the New York Times reported that she said, "Everybody has a different taste."
Being in the public eye, Trump had always been a victim of controversy – big and small. Previously, she was criticized on the "Late Show" after she publicly fired a White House staff.
A famous comedian impersonated the first lady on the show, and she joked about many things, including President Donald Trump's "privates."
Please fill in your e-mail so we can share with you our top stories!