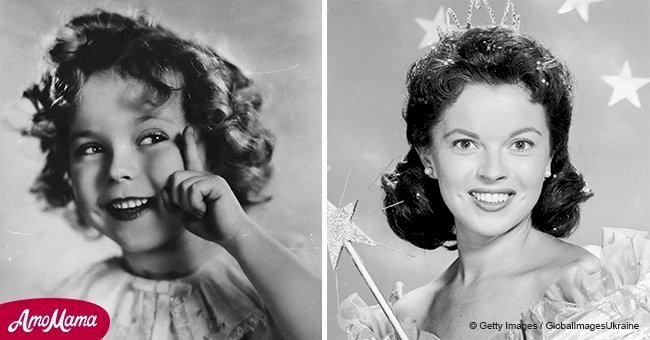 Shirley Temple's daughter was a difficult child and she's alive only because of her mom
The appearance of Shirley Temple was the definition of the word "innocence", however, things with her daughter were not so rosy.
Shirley Temple will be remembered as that childish icon thousand times parodied, imitated, adored and hated with flavor to other times. The "little one" died recently at age 85, leaving behind a legacy of popularity that dates back to the 1930s. However, despite what may seem, not everything in his life was easy.
Her daughter with her second husband Charles Alden Black was at first a symbol of the happiness she deserved after the hell she lived with her marriage to actor John Agar.
Read more on our Twitter account, @amomama_usa.
Lori Black, also known as "Lorax" was always a problem girl, falling into the drug world when she became a rock star during the 80s and 90s. Lorax was a bassist for Clown Alley and for the Melvins. The success she had with the Melvins came after she was arrested for drug possession at the Oregon airport in '93.
Despite having been hospitalized several times for drug abuse and for having even served community service because she was found guilty of possessing heroin, her family, and of course, her mother, Shirley Temple, supported her at all times to get out of the situation.
She was even allowed to perform her rehabilitation in California, where her parents lived, so her mother was an extremely important instrument to get out of the problem. There were rumors about Lori's death from drug abuse in 1998, however, it is clear that this is not true, since she is 64 years old and she is currently working as a photographer.
Shirley certainly had a difficult childhood, the girl not only danced but also sang and had a head full of golden curls and a smile that never left her.
She captivated the big film producers and soon the papers arrived. Now, that artistic precision and its right learning of the scripts had a high price: Shirley lost her childhood and had more demands than an adult actor.
Despite the bad experiences of childhood, Shirley reached adulthood as the strong and bright woman she was and remained successful, firm and hard working until the end of her days.
Please fill in your e-mail so we can share with you our top stories!