Mariah Carey sparks outrage from MAGA supporters after posing with Colin Kaepernick in pic
Mariah Carey remains unbothered as some of her fans, who are also MAGA supporters, slam her on social media after she posted a photo with Colin Kaepernick.
The "All I Want For Christmas Is You" singer lost the support from part of her huge fanbase after stating she was "honored" to meet the NFL controversial player a few weeks ago.
Carey was promoting her new album "Caution" on the radio station Hot 97 when she stumbled with Kaepernick. Not one to miss on an opportunity. Mariah snapped a picture with the football star and was all smiles posing with him. In the pic, the former San Francisco 49ers quarterback looms over Carey, but both look delighted to be in each other's presence.
"Such an honor to meet @kaepernick7 today!" she captioned the Instagram post, unaware of the backlash that would later follow.
KAEPERNICK'S ACTIONS
Kaepernick became a poster boy for the hate of conservatives after he and fellow player Eric Reid decided to protest against police brutality towards African Americans by bending their knees during the national anthem at some NFL games.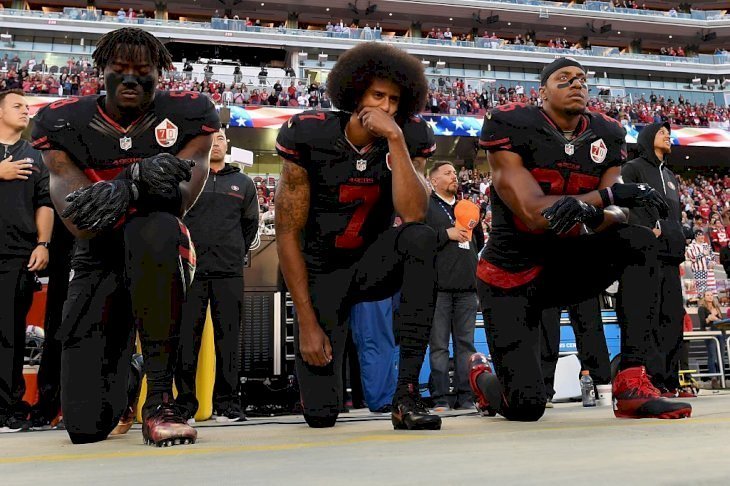 He earned the disdain from MAGA supporters and was even called out by President Donald Trump. However, Nike decided to support the player and featured him in a powerful ad for their brand, which drove thousands to burn their Nike clothing and try to boycott them.
But it seems as though Mariah has taken a stand in the situation after months by publicly showing her support for the man. However, her actions weren't well received by a lot of her now former fans on social media, who showed their disappointment in Mariah with their snide comments.
FANS' REACTIONS
One fan expressed dismay by questioning Mariah's allegiance to the football star.
"I'm literally one of your biggest fans ever, been going to your concerts for years. I must say this picture really bums me out, @kaepernick7 is no hero, not sure how or why its an honor to meet him. A man that dishonors our policemen, military & most of all this beautiful country is nothing but a hater."
Another user told Mariah he was deleting her from his feed and added,
"I thought you were better than that. There goes 20+ of admiration."
"So disappointed in u Mariah, I thought u were different than all of the celebs supporting that fake nutjob, but guess nobody's perfect…", one fan chimed in.
However, as usual, the outpour of love and support overcame the hateful comments, as Carey's "lambs," as she calls her fanbase, came to the rescue to defend the star and kick out the haters out the door of the "Lambily family."
CAREY'S ARMY TO HER DEFENSE
"All you bitter racist saying 'I'm unfollowing you, I'm not buying your cd, I'm so disappointed!!!' who gives a [expletive]?? She still gonna be rich and sleeping just fine without your $15 - $20 bucks for a disk," wrote one fan. And another chimed in:
"Apparently, if this upsets folks they have way too much time on their hands. And will never understand the social injustice of brown & black or poor people. Good luck with spreading your hatred around. Love trumps it every time, be blessed."
Another user added,
"It would be safe to assume though that fans will soon forget this episode since this is not the first time the singer gained negative attention for a post. In September, she shared a photo with Floyd Mayweather and was bashed for her poor taste in company. The boxing champ is notorious for abusive behavior which doesn't sit well with others."
And while some of Carey's fans fight each other and argue on her comment section, another side of it is too busy promoting one of her oldest albums and trying to rescue it from oblivion while using a hashtag that, for people in the UK, has brought some war flashbacks.
AN UNFORTUNATE HASHTAG CHOICE
The "#JusticeForGlitter" movement started when fans decided it was time to rescue Mariah's 2000s soundtrack "Glitter" from the movie of the same title. The album did so bad on the charts and sales when it was released that Mariah practically erased it from existence and has never mentioned it or sang it live.
But her lambs believe the record has many good songs and decided to bring justice to it, launching it to the number 1 spot on the iTunes chart after a viral campaign on social media. It also earned an increase of 10 percent in digital sales.
However, the hashtag of choice for the campaign was more than unfortunate for some people in the U.K, who pointed out it looks like fans are defending Gary Glitter, the disgraced former rock star, who was convicted on child sex offenses in 2006.
Perhaps not one to pursue in the UK. https://t.co/v3LLD1s0HZ

— Chris Duncan (@chrisduncania) December 3, 2018
That split second it takes to realise what #justiceforglitter is actually about pic.twitter.com/99XEUCWCIS

— Peter Hoskins (@PeterHoskinsTV) December 3, 2018
Mariah's and her fans' choices might collide with other people's opinions, but the singer remains unbothered as she promotes her album and reminds the world she's the woman with the golden voice.