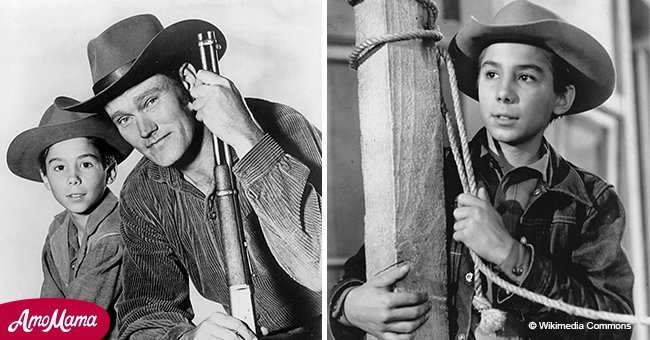 Here's what happened to Mark McCain from 'The Rifleman'
After Johnny Crawford landed his most memorable role as Mark McCain in "The Rifleman," he stopped getting important parts in films. However, he still kept himself busy.
Crawford, who was nominated for an Emmy Award when he was 13 years old due to the great chemistry he and Chuck Connors showed in the series, found immense fame at a very early stage of his life. Unfortunately for him, he couldn't maintain it.
When the show ended in 1963, he was one of the most popular young actors and singers in the US, having placed four of his songs on the Billboard Top 40 hits.
Read more on our Twitter account @amomama_usa.
One year after "The Rifleman" ended, he appeared on the NBC education drama, "Mr. Novak." He was a member of its cast again in 1965,
In the same year, Crawford took the role of an American Indian in "Indian Paint." Later, he worked with Kim Darby in "The Restless Ones" where his character was involved with a disturbed girl.
Crawford worked in "El Dorado" in 1967, a film that was based on the novel "The Stars in Their Courses" by Harry Brown.
One year later, he played a soldier wanted for murder in one episode of "Hawaii Five-O" and the next year he did one episode of "The Big Valley" as a young deputy named Billy Norris.
In 1970, Crawford's close friend and producer, John Longenecker, asked him to be part of his student film titled "The Resurrection of Broncho Billy."
Crawford accepted, and the movie won the Academy Award for Best Live Action Short Subject.
Three years later, Hugh Hefner produced "The Naked Ape," a partially animated film. Its main stars were Crawford and Victoria Principal.
"The Rifleman" was not the only popular show Crawford worked on. In 1976, he co-starred as Ben Shelby in one of the episodes of the third season of "Little House on the Prairie."
Crawford led a California-based vintage dance orchestra sponsored by the Playboy Jazz Festival. His band played 15 times at the Art Directors Guild Awards shows at the Beverly Hilton and Beverly Hills.
Crawford married Charlotte Samco in 1995. They are not living together at the moment, though.
Please fill in your e-mail so we can share with you our top stories!