The moment when 8-year-old boy got out of his mom's car to help an elderly woman still melts hearts
The act of kindness of a then-eight-year-old boy called Maurice Adams who helped a senior woman he didn't know to go up the stairs in Central Georgia went viral.
Maurice was in his parent's vehicle going home from a graduation ceremony on Wayne Street in Milledgeville, Georgia. On their way, the boy noticed that an old lady with a walker was having a difficult time walking up the stairs.
Contricia Hill, Maurice's mother, confessed that, as soon as her son saw the lady, he asked his mother if he could go and help her. When Contrice said yes, he jumped out of the car and gave the woman a hand regardless of the vehicles waiting behind. 
'Thank God for our youth.' Video of young boy helping woman climb stairs warms hearts https://t.co/nE9slhZ5p3 pic.twitter.com/e8fV2ehXa5

— The News & Observer (@newsobserver) May 31, 2018
Luckily, someone from one of the cars waiting for them recorded most of the beautiful action. Maurice, wearing a red shirt and denim shorts, helped the senior woman to hold up and push her walker while also serving as support for her to take the steps.
A Thoughtful Young Boy Gets Out of Car to Help an Elderly Woman With a Walker Climb Safely Up Stairs https://t.co/NhU6xYLu66 pic.twitter.com/XMgSoH8N3k

— Laughing Squid (@LaughingSquid) June 1, 2018
The woman turned her head to look at the boy as if she was surprised yet grateful for getting his help. Once they reached the end of the stairs, they shared a hug, and the boy quickly ran back to the vehicle.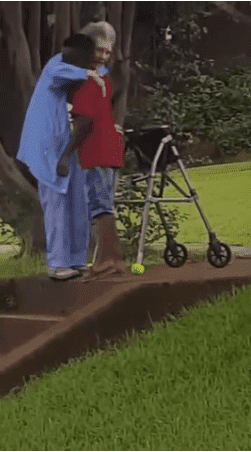 "I started to help her out because she was struggling up the stairs," Maurice told 13wmaz.
The boy added that he loves elderly people because they are "nice" and they would "help some of the kids out."
Even though Maurice did all that without expecting anything in return, Riley Duncan, the person who recorded the video, knew that such acts of generosity coming from an eight-year-old boy are not common, so he gave him a $100 bill.
Maurice is not the only young boy who is willing to spend time helping others as Bishop Curry Jr. an 11-year-old boy from Texas, created a device to stop babies from dying in hot cars.
When one of his neighbors died after being left in a car for too long, Bishop drew a mock-up of a device that would sense if a child is left alone in a car. Then, the device would alert parents' phones and the police via text or notifications while blowing cold air into the vehicle until help arrives for the child.