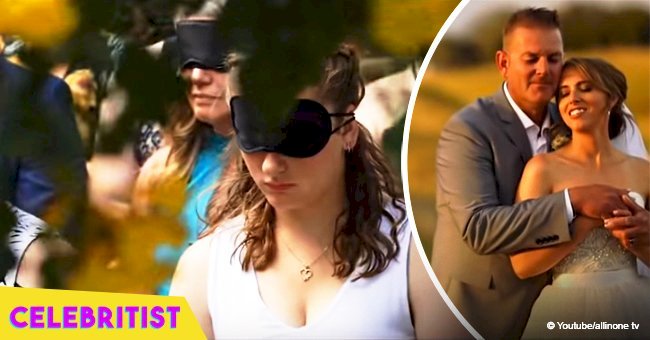 The story of how guests wore blindfolds at blind bride's wedding still touches hearts
An Australian couple asked wedding guests to honor the bride by wearing blindfolds for the ceremony, and the result is beyond astonishing.
Stephanie Agnew has Cone-Rod Dystrophy, a condition that caused her to lose sight shortly before meeting the love of her life, Robbie Campbell. When they decided to tie the knot in November, Campbell planned to make it the best day of her life.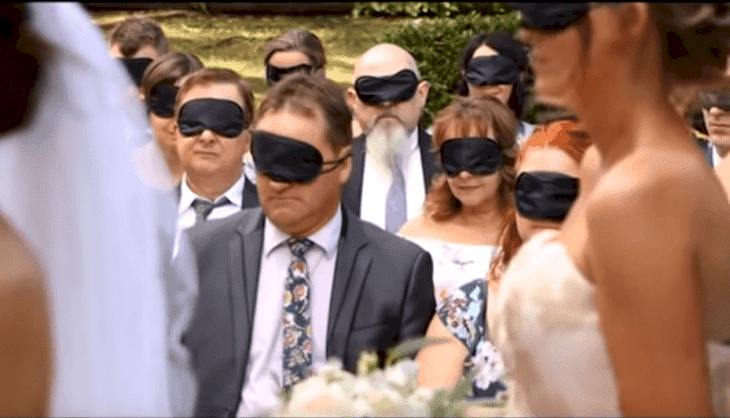 Youtube/Allinone TV
They asked their guests -- all 54 of them -- to wear blindfolds throughout the ceremony, so they could experience it as the bride did. The wedding was held in Queensland but Campbell, a police officer, made sure the venue was a familiar place that his bride could visualize.
"I couldn't control my emotions as she walked down the aisle"
"We chose the venue as it was on the same road as Steph's great aunt's house," Campbell told FEMAIL. "It had the same amazing view over the Glasshouse Mountains that she remembers seeing as a child when she had sight. She was able to picture the view on the day."
IT TAKES A VILLAGE...
Fortunately, Campbell was not alone in wanting to make the day memorable for Agnew. All of the couple's vendors -- photographers, videographers, venue staff, etc. -- were eager to help improve the bride's experience. They made sure to include various tactile elements that will help form memories of her big day.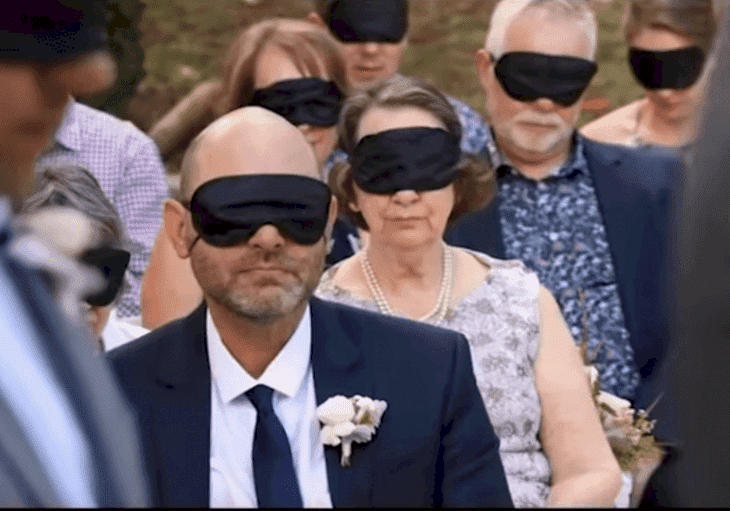 Youtube/Allinone TV
Agnew's bouquet was made up of fragrant flowers, and the staff took their time painting a vivid image of the accessory in words, an owl from Raptor Vision was employed to perch on Agnew's hands with the rings, and James Day, the photographer who also happens to be Agnew's friend, created several pieces of fabrics infused with different essential oils.
Day explained the reason behind his actions to CafeMom:
"During the day, different people would hand Steph these squares of scent-infused fabric, with the idea that these will help trigger those same memories when touched and smelled in the future. For example, Rob handed Steph an aloe vera fabric infused with roman chamomile just as they were about to say their vows."
A MOTHER'S JOY
But the tactile elements also helped heighten another woman's experience of the ceremony. Agnew's mother has the same condition has her daughter, and while the bride can only see "light and dark perception and some shapes and shadows," the mother is completely blind.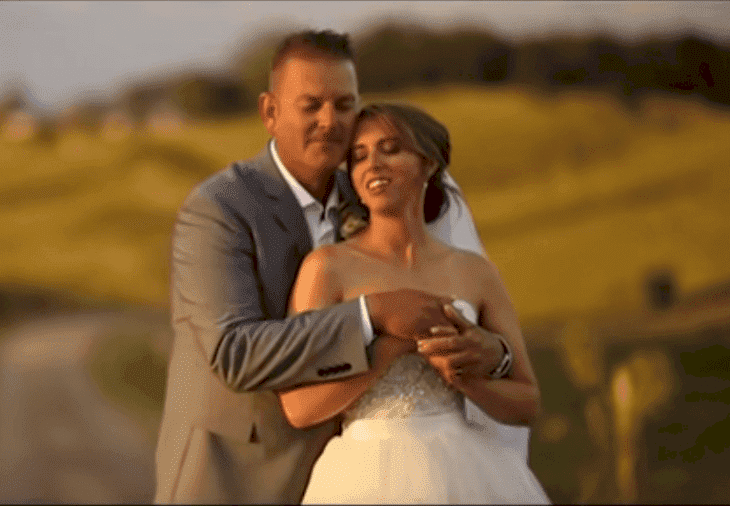 Youtube/Allinone TV
The event videographers put together a film with extra audio descriptions so Agnew can relive her big day anytime. Agnew, a real estate practitioner before losing her sight, met Campbell in October 2016 at a get-together in the building where they both lived.
LOVE BEYOND BOUNDS
The cop proposed on Christmas day last year and when he saw his bride walking down the aisle last month, could not help getting emotional.
He admitted:
"I couldn't control my emotions as she walked down the aisle - she looked like a true princess bride in the dress."
LIGHTING UP THE COUPLE
Only a month before Campbell and Agnew's nuptials, another couple went viral for their wedding antics. The same-sex spouses, April Choi and Bethany Byrnes, wrapped up their ceremony with a show that involved them burning their wedding dresses while they still wore them.
Although the variety entertainers insisted that they took all necessary precautions, many people on the internet disagreed.
TEXT MESSAGES FOR VOWS
Unfortunately, there are also weddings that go viral for the wrong reasons, like this one of a bride that read out her groom's cheating messages instead of her vows.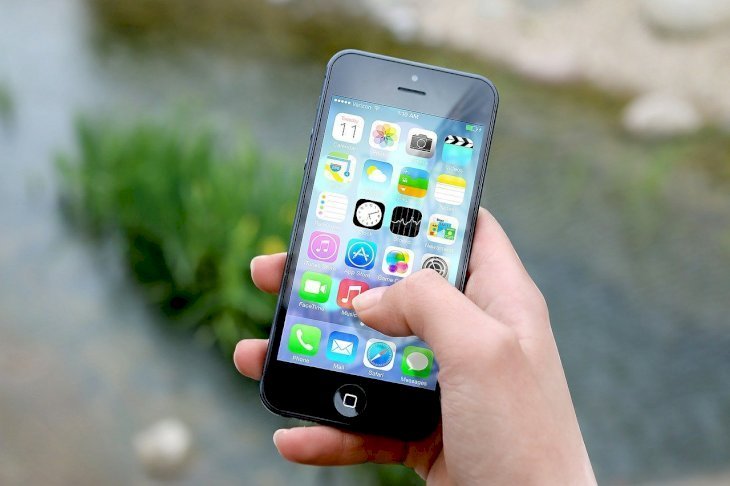 Pixabay
Please fill in your e-mail so we can share with you our top stories!