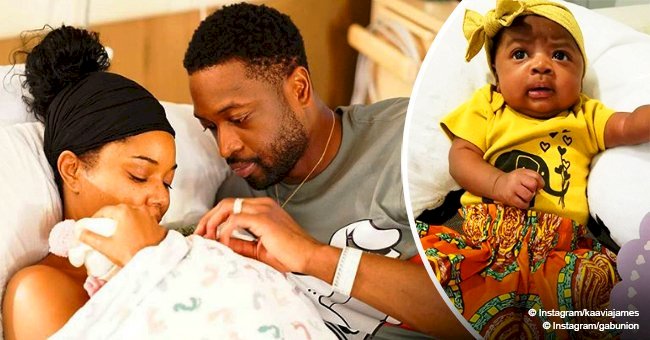 Gabrielle Union & Dwyane Wade's daughter Kaavia celebrates her 1-month birthday in new photos

Gabrielle Union and Dwyane Wade's daughter is growing fast. For her one month birthday her parents released new pics, shown below, of the gorgeous baby.
Gabrielle Union has actively shared baby Kaavia's pics with her fans. The first-time mom set up an Instagram account dedicated solely for pics of the adorable baby girl.
To celebrate her turning one month old, Union and Wade posted a few new pics both before and after her birthday.
The "Bring It On" actress posted pics of the adorable Kaavia on her own account as well. Each post was accompanied by witty remarks and hilarious captions.
Kaavia's official one-month pics were captioned, "You ain't gotta go but you gotta get up on outta here. To the left, to the left." The adorable caption fit perfectly with the first pic where the cute one-month-old had her arm pointing to the left.
"#shadybaby is one month and my parents forgot to post it on the 7th." continued the post
Kaavia has an uncanny talent of making the most adorable and attitude-filled faces. Her pictures have been deemed meme-worthy on more than one occasion.
Kaavia was born on November 7. Her birth was via a surrogate as her mum, Gabrielle has battled to conceive for years.
"A LOVELY DAY. We are sleepless and delirious but so excited to share that our miracle baby arrived last night via surrogate and 11/7 will forever be etched in our hearts as the most loveliest of all the lovely days. Welcome to the party sweet girl!" wrote her parents in their statement on social media
The doting parents have kept fans up to date about their growing baby. However, they were sometimes met with negativity.
The negative comments eventually led to Union speaking out against the "mummy-shamers." She wrote in one statement, "Hey guys I appreciate all the concern about kisses on the mouth and labored breathing, I am blessed enough to have a nurse here with us while at work."
"Kaav is healthy and I don't even touch her without washing and sanitizing myself and everything and everyone that comes into contact with her. No visits with sick folk...if you think I waited this long and went thru [sic] all this to put my baby in harm's way…you got another thing coming." wrote Union in another statement.
Please fill in your e-mail so we can share with you our top stories!